Chedli says reports of Tunisia expulsion are false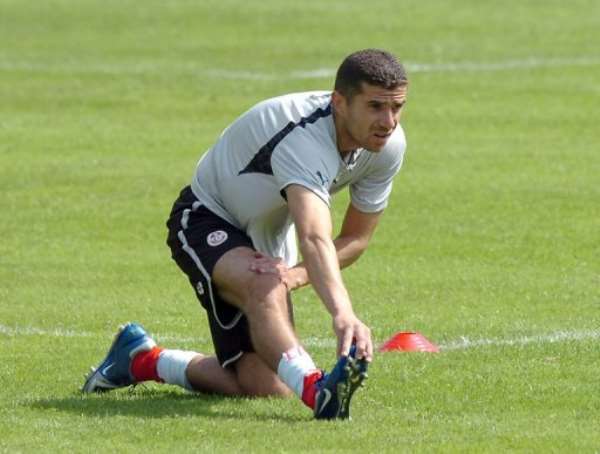 Reports from the Tunisia team management said Adel Chedli had been kicked out for dissent. By Fethi Belaid (AFP/File)
LIBREVILLE (AFP) - Tunisia star Adel Chedli says that rather than being expelled from the Tunisia camp he decided to quit after relations with coach Sami Trabelsi broke down.
On Wednesday reports from the Africa Cup of Nations quarter-finalists' team management said the 2004 titlewinner and Carthage Eagles veteran had been kicked out for dissent.
"Chedli is finished. He was on the bench for the first two matches, and suggested Tunisia's (2-1) win over Niger wasn't 'logical'. He watched last night's (Tuesday) game against Gabon from the stands," a source in the Tunisian camp disclosed.
But the 35-year-old veteran has a different take on events.
The Esperance star told France 24 on Wednesday night: "There is no more dialogue with him (Trabelsi)."
According to Chedli, Trabelsi had told him before and during the competition that he was planning "to count heavily on him".
The player said: "Yesterday (Tuesday) Sami changed 80 to 90 percent of his team. We had talked -- I should have played (against Gabon). He told me he was going to rely on me, that he was going to play me in this match.
"To my great surprise I wasn't in the line-up."
He denied that he had left the squad on bad terms, disclosing: "When I left this morning I gave Sami Trabelsi a kiss, he wished me good luck. I told them that if they qualified for the final it would be a great honour for me to support my teammates.
"These are my little brothers and I don't turn my back on my country."
Chedli, on the books briefly at Manchester United at the start of his career back in the mid-1990s, has been a stalwart of the Carthage Eagles' set-up ever since earning his first cap in 1996.
As well as the 2004 Nations Cup the French-born midfielder also helped Tunisia to success in last year's African Nations Championship and was part of their 2006 World Cup squad.
Chedli, speaking before the competition began, said he had planned to quit the international scene after the 2012 Nations Cup.
He is the second player to leave the Nations Cup after Zambia gave Clifford Mulenga his marching orders for reportedly breaking a curfew at the team's hotel in Bata across the border in Equatorial Guinea.
Tunisia, Group C runners-up, face Ghana in the quarter-finals in Franceville on Sunday.
Zambia are up against Sudan 24 hours earlier.