1 February 2012
|
Sudan
Sudan rebels ask Beijing to pressure Khartoum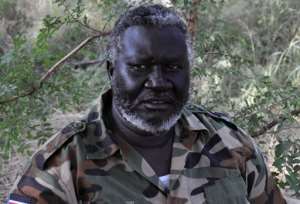 KHARTOUM (AFP) - Sudanese rebels holding 29 Chinese workers have asked Beijing to use its influence on Khartoum to help badly-needed aid reach the country's war zone, a spokesman for the insurgents said on Wednesday.
Malik Agar, chairman of the Sudan People's Liberation Movement-North (SPLM-N), met a Chinese diplomat on Monday in Addis Ababa, Ethiopia, the spokesman told AFP.
"They discussed... the safety and security of the Chinese... and how they will come back to their country," said Arnu Ngutulu Lodi, spokesman for SPLM-N in South Kordofan state, where the 29 Chinese were captured by rebels on Saturday.
He said Agar, along with the movement's secretary general, held the talks with Xie Xiaoyan, Beijing's ambassador to the Ethiopian capital. The meeting happened the same day China dispatched a team to Sudan to help secure the captives' release.
The SPLM-N leaders in Addis asked for China's contribution to humanitarian assistance and to help create "safety corridors" for allowing aid deliveries to the warzone, Lodi said from Kenya.
"We explained all this to the Chinese and we asked their support... to put pressure on the Sudanese government."
He said these requests were not made as demands to be met for the workers' release but because China has influence on Sudan.
China is Sudan's major trading partner, the largest buyer of Sudanese oil, and a key military supplier to the regime in Khartoum.
The United Nations has backed statements by the United States that there could be a famine unless urgent aid is allowed to enter South Kordofan and nearby Blue Nile, another southern border state where the government is fighting the SPLM-N.
Khartoum has severely restricted the work of foreign relief agencies in the two states.
On Tuesday Beijing lodged a formal protest with Sudan over the capture of its workers.
"China urges Sudan... to continue to go through every channel to expand the scope of the rescue and do everything it can to ensure the safety of the Chinese personnel," Vice Foreign Minister Xie Hangsheng said in a statement.
Qiu Xuejun, leader of the six-member team dispatched by Beijing, told China's state-run Xinhua news agency after arriving in Khartoum that they were there to help the embassy with rescue operations and to consult with Sudanese authorities.
The captured workers were involved in a road-building project.
A Chinese embassy official in Khartoum refused to make any comment when reached by AFP on Wednesday.
Sudan's army spokesman has described the Chinese as hostages but Lodi said they simply came into rebel custody when the SPLM-N took control after a battle with government troops in northeastern South Kordofan.
The rebels say they are ready to talk with the delegation sent by Beijing.
Catch up on the latest news videos from Modern Ghana.
Advertized