Senegal braces for fresh opposition protests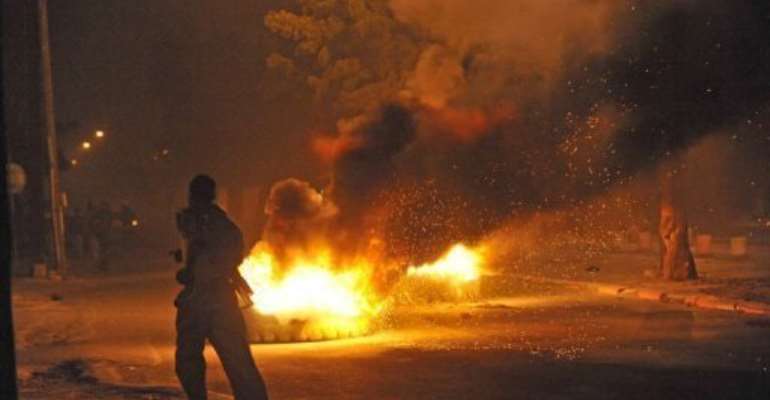 DAKAR (AFP) - Senegal braced for fresh protests on Tuesday, stoking fears of further violence following the deaths of three people in riots over octogenarian President Abdoulaye Wade's plans to seek a third term.
The opposition has launched a campaign of popular resistance to force Wade to step aside ahead of February's presidential election, and is planning a rally Tuesday in the capital Dakar which government says is "not authorised".
Interior ministry spokesman Abdoulaye Thiam told AFP that the June 23 Movement (M23) of opposition and civil society groups had "not declared their intention to protest" according to the law.
Security forces on Monday shot dead a 60-year-old woman and a teenager at a rally in the northern city of Podor, while a policeman was killed on Friday in riots over Wade's controversial plans.
Amnesty International urged authorities "to refrain from using live bullets against peaceful protesters" ahead of Tuesday's rally in the country which is typically seen as a beacon of democracy among often troubled neighbours.
Salvatore Sagues, the global rights body's West Africa researcher, said Monday's bloodshed was a "dramatic escalation" of violence in the run-up to the February 26 vote.
The European Union condemned the violence and called on "all parties to show restraint and opt for dialogue in the interest of peaceful, free and fair elections, which need to reflect the will of the Senegalese people".
Washington meanwhile urged the 85-year-old Wade, who has been in office since 2000, to allow power to pass "to the next generation".
"While we respect the process... our message to him remains the same: that the statesmanly-like thing to do would be to cede to the next generation," State Department spokeswoman Victoria Nuland told journalists.
But El Hadj Amadou Salla, minister of state and a senior Wade campaign official, said it was "too late" and that the president's candidacy has already been validated.
Senegal's constitutional council on Monday dismissed all appeals against Wade's candidacy, leaving no legal recourse for opponents who accuse him of carrying out a constitutional coup.
The opposition argues that the constitution allows a president to serve only two consecutive terms.
However term lengths were amended in 2008 and Wade says the law does not apply retroactively, which theoretically allows him to serve two seven-year terms from 2012.
Music icon Youssou Ndour, who was rejected as a candidate, has urged the world to protest at what he called a "constitutional coup d'etat".
Aside from Wade, the council approved 13 other candidates to run in the election including three former prime ministers and main opposition leader Ousmane Tanor Dieng.
Dakar was rocked by riots on Friday after the five-judge council first made its ruling, and a policeman was killed during running battles with youths who torched cars and shops, erected barricades and burned tyres.
On Monday a 17-year-old protester and 60-year-old female bystander were shot dead in Podor by paramilitary police who opened fire on a crowd demonstrating against the council decision, said Amnesty.
Senegal's presidential spokesman Serigne Mbacke Ndiaye appealed for peace.
"The real combat is the one we must lead to hold a transparent election... being a candidate means nothing," he told journalists.
"We deplore the will (of the opposition) to lead the country into chaos... we don't want Senegal to go up in flames."
Wade said in an interview with a local news website last Thursday that he needs three more years to complete his projects, fuelling speculation that he wants to line up a successor.
He has long been accused of trying to position his 44-year-old son Karim Wade -- already a super-minister in his cabinet -- to fill his shoes.
When Wade was voted into office in 2000 after 25 years in opposition and the defeated incumbent bowed out gracefully, Senegal was hailed as a model for the strife-torn continent.
But a US diplomatic dispatch published by WikiLeaks in 2010 warned Senegal was "a weakening democracy," saying Wade was looking to "open a path to a dynastic presidential succession".