A.U. holds first post-Gaddafi summit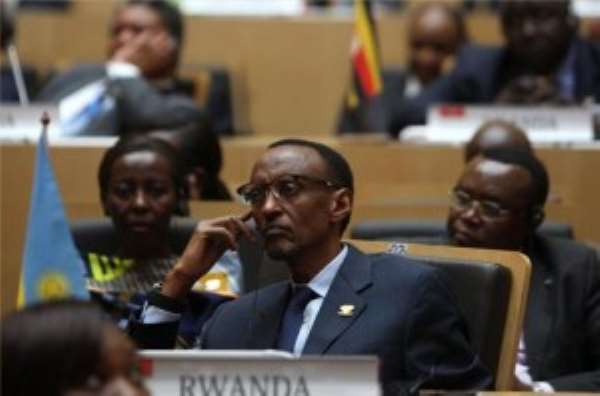 The leaders gathered in Ethiopia will choose the next head of the AU Commission, the 54-nation bloc's executive council. South Africa's Home Affairs Minister Nkosazana Dlamini-Zuma's move to challenge the incumbent Jean Ping has made the race tighter.
South Africa said on Saturday it was optimistic Dlamini-Zuma, former wife of President Jacob Zuma, can unseat Gabon's Ping, who was first elected in 2008.
"Government remains optimistic that Minister Dlamini Zuma will receive the necessary votes," South Africa's foreign ministry said in a statement, hoping she will be the first woman to hold the post.
The election will be held on Monday by secret ballot. Sources close to Ping say he is confident of re-election, counting on support from French-speaking West and Central Africa countries.
But Dlamini-Zuma, 62, has launched a tough campaign and has the backing of the 15-member Southern African Development Community.
The leaders will also choose the next AU chairman to succeed Equatorial Guinea's President Teodoro Obiang Nguema. The AU chairmanship rotates among African leaders and is held for one year.
Nigerian President Goodluck Jonathan could enter the race after Gambia pulled out of the running this week. The leaders of the Economic Community of West African States are campaigning for Jonathan to run for the position.
The summit, being held at a sleek new Chinese-built AU headquarters inaugurated on Saturday, will also focus on boosting "Intra-African Trade," the meeting's official theme.
The African leaders will also discuss the long-running conflict in Somalia, where the AU has a 10,000-strong force protecting the country's fragile Western-backed government from the al-Qaeda-linked Shabab militia.
A bitter dispute between Sudan and South Sudan over oil pipeline transit fees, heightening tensions between the former civil war enemies, is also hoped to be addressed during the two-day talks. UN Secretary General Ban Ki-moon will attend the summit. Aljazeera