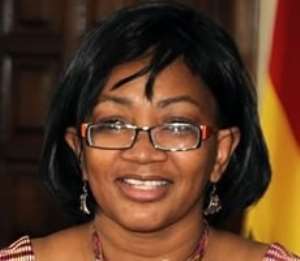 The Commission on Human Rights and Administrative Justice (CHRAJ) is to present the draft National Anti-Corruption Action Plan (NACAP), one of the triggers for donor support, to Parliament next month for adoption.
It is, therefore, finalising the draft NACAP, progress of which was communicated to the Vice-President on January 6, this year, for parliamentarians to also make their input and adopt it to become the national strategy on anti-corruption.
Briefing the Daily Graphic in Accra Monday, a Deputy Commissioner of CHRAJ, Mr Richard Quayson, and the Chairman of the National Working Group of the NACAP, Mr Charles Ayamdoo, said the plan had evolved from wide consultations.
The anti-corruption plan, which will span the period from 2012 to 2021, is one of the triggers of donor support.
This means that a country requires will fashion out and implement an anti-corruption plan to make development partners eager to provide the much-needed support for its development.
The draft report builds on past experiences in the fight against corruption and brings together all anti-corruption efforts into one comprehensive, strategic plan that embraces all Ghanaians in the fight against corruption.
Presenting highlights of the strategy, Mr Quayson said NACAP was a national strategy to be debated and adopted by Parliament, after which copies of the plan would be circulated widely for its implementation to begin.
He said CHRAJ had facilitated the process by providing a secretariat for the working group that developed, consulted and collated efforts in the development of the strategy.
A broad cross-section of professional, business, civil society organisations, community-based organisations, the media, religious groups, the government and its agencies, as well as youth bodies nation-wide, were consulted in the drafting of the policy.
Two national integrity conferences took place in 1998 and 2011, with the first conference providing significant proposals for tackling corruption in a comprehensive manner and the second discussing, evaluating and validating the draft NACAP.
Mr Quayson said roles had been apportioned to all Ghanaians in the anti-corruption strategy, with the media, for instance, having the responsibility of sensitising the public to the action plan and conducting investigative articles to expose corrupt practices.
Mr Ayamdoo, for his part, said journalists and all other professions were also responsible for a non-partisan approach to their work under NACAP.
NACAP, he added, made all responsible to "walk the talk" and translate the preaching and commitments into practice.
He stressed that in order to survive governments, the document had been through processes that were consultative and was being facilitated by CHRAJ, which was independent in its operations.
Its adoption by Parliament, he added, was meant to make all Ghanaians identify themselves with the plan.