Senegal opposition to rally against Wade third term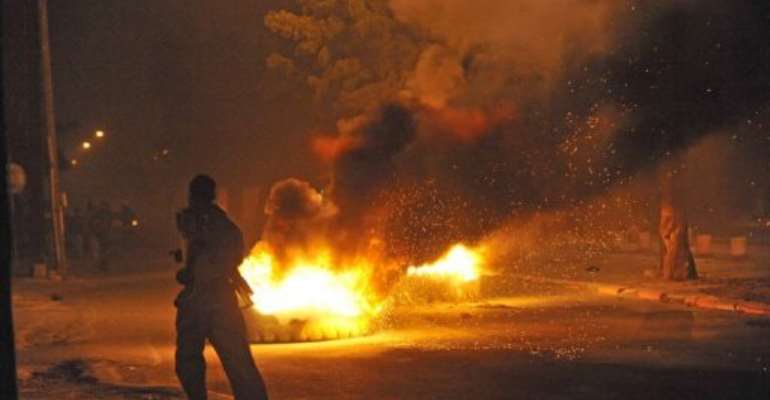 DAKAR (AFP) - Senegal's opposition readied Monday for mass resistance to President Abdoulaye Wade's controversial third term bid, which a court validated in a late-night ruling despite violent dissent.
The Constitutional Council, appointed by 85-year-old Wade and known as the "five wise men", late on Sunday confirmed its ruling from Friday that declared the president's candidacy valid.
That decision had sparked deadly weekend riots in the normally placid west African nation.
The court said a series of appeals against its ruling were "unfounded", also rejecting Wade's own challenge against the inclusion of three other candidates.
The opposition argues that the constitution allows a president to serve only two consecutive terms, but Wade says the applicable law, amended in 2008, does not apply retroactively and cannot take into account his previous two terms.
The opposition, united under the June 23 Movement (M23), warned Sunday that "the time for talking is over" as it called for mass resistance and a rally in the coming days.
"This is an appeal, a solemn, strong and resolute appeal to engage in resistance. We are ready for all sacrifices," said Amadou Gueye, one of the movement's leaders.
The Constitutional Council also turned down an appeal by music icon Youssou Ndour against its rejection of his candidacy on the basis that he had not provided enough supporting signatures.
The country's top politicians, who will be rivals in the February 26 polls, are presenting a united front under the M23 in a bid to ensure Wade does not take part.
"Our main concern is not the election right now, it is standing alongside our people," said ex-foreign minister and presidential candidate Cheikh Tidiane Gadio.
Senegal, often hailed for its vibrant democracy, was rocked by riots on Friday night as a rally erupted in anger when the council gave Wade the green light to run.
A policeman was killed in the turmoil when angry youths engaged in running battles with police, torched cars and shops, erected barricades and burned tyres in Dakar's main roads.
When Wade was elected in 2000 for a seven-year mandate, there was no limit to the number of presidential terms.
He was re-elected in 2007 after introducing a two-term limit and reducing the mandate to five years.
Wade again revised the constitution the following year, reverting to a seven-year mandate, renewable once. Wade argues that he is entitled to two fresh terms from 2012, but the opposition disagrees.
A local body of online news websites (Appel) said in a statement Sunday that 80 percent of Senegal's web news providers experienced technical difficulties since Friday night.
It suspects "attacks against the sites' host servers to prevent the closely-watched online media from relaying news on the current tense situation".
Some 50 people, including M23 leaders, left Sunday's press conference in a convoy to Dakar's central police station to demand the release of fellow leader Alioune Tine, arrested Saturday after the riots.
Tine is also a prominent activist with the African Assembly for the Defence of Human Rights (RADDHO), which condemned his arrest without a warrant.
Macky Sall, a former prime minister under Wade who is also running in the election, blamed the president for the weekend violence.
He urged people to "make every effort to ensure that Wade retracts his candidacy".
Sall called for "everything at once: marches, sit-ins, resistance (but) no violence".
Another anti-Wade movement formed by a group of rappers and calling itself "Y'en a Marre" (We're Fed Up), has also called for nationwide mobilisation.
"Nothing can resist the will of the people," said rapper "Thiat", one of the founders of the movement, which has struck a chord with younger people.
Wade has dismissed the opposition protests as "temper tantrums."
On Sunday, UN Secretary General Ban Ki-moon, speaking at an African Union summit in Ethiopia, called on the continent's leaders to respect democracy, though he did not specifically mention Senegal.
The Arab Spring revolutions that swept north Africa last year were "a reminder that leaders must listen to their people", he said.
"Events proved that repression is a dead end. Police power is no match to people power seeking dignity and justice," he said.