AFAG Hits The Streets Over Hardships, Corruption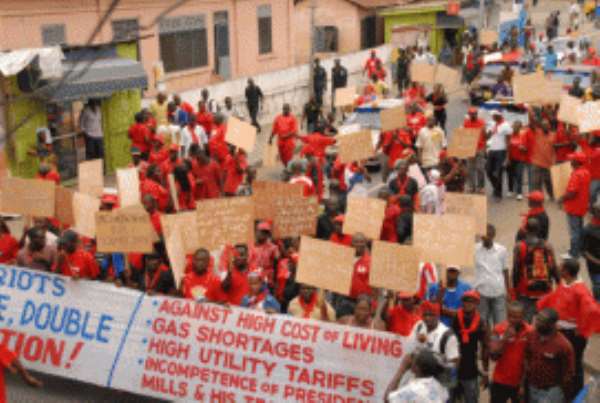 FLASHBACK: AFAG in a similar demonstration in 2011 which they termed Ahokyere demo
Hundreds of people Wednesday joined the Alliance for Accountable Governance (AFAG) in Accra to protest against what they described as economic hardships in the country and corruption in government.
The demonstration, dubbed, ''Atta Wayo Demo'', was also to protest against the payment of GH¢58 million in judgement debt to Alfred Agbesi Woyome, a businessman, brought protestors from the Western, Central, and Ashanti regions.
The protestors wore red and black attire and red armbands and carried placards, some of which read, "Bitter Ghana Agenda", "Atta Mills, please reduce the fuel price", "Looting Brigade under Mills", "Atta out Now", "Pay trainee teachers", "Gargantuan Father", "Impeach Mills" and "Two years, no pay for NIA workers. Why?"
The demonstration, which lasted nearly six hours, saw the protestors starting from the Kwame Nkrumah Circle, passing through Adabraka to the Trades Union Congress (TUC) Intersection before eventually converging on the Art Centre where they took to drumming and dancing.
According to the leaders of the demonstrators, the government had failed to fulfil its campaign promise of prosecuting a ''Better Ghana" agenda.
They said the increases in fuel prices, after President Mills had promised to drastically reduce fuel prices when elected, coupled with mismanagement of the country's resources by some of his ministers, had brought extreme hardship to Ghanaians, particularly the youth and women.
"We want the President and his ministers to understand that the country is not for them and, therefore, they cannot make bad decisions which directly affect the ordinary citizen,'' a leading member of AFAG, Mr John Kuma, said.
"We believe that Prof Mills has failed this country and has allowed the economy to retrogress," he added.
Addressing journalists, the Director of Research of AFAG, Davis Opoku Ansah, asked the President to explain to Ghanaians why he allowed the payment of huge sums of money in judgement debt to Woyome when the government had no contract with him.
He also demanded that the Mills administration ask the General Secretary of the National Democratic Congress (NDC), Aseidu Nketia to come clean over the alleged construction of a $20-million multi-purpose office at Adabraka in Accra, adding, "Till date, the NDC has failed to provide any credible source of funding for the project."
The group threatened to continue to demonstrate until the government offered tangible and accurate explanations on the Woyome saga.