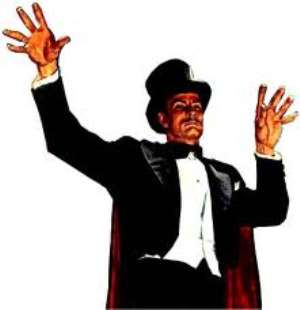 Accra Jan. 25, GNA- A self styled magician, Abdul Jamilu on Wednesday appeared before an Accra Circuit Court charged with causing harm.
Jamilu during a magical test ended up inflicting blade wounds on Francis Dagbeji a student at Old Fadama, a surbub in Accra.
Jamilu initially slashed Dagbeji with a cutlass but he did not sustain any wounds but Jamilu's magical concert turned sour, when he inflicted a deep cut with a blade on Dagbeji's head.
Jamilu pleaded not guilty to the charge and was admitted to bail in the sum of GHC 5,000 with one surety to reappear on February 15 before the court, presided over by Mrs Patience Mills-Tetteh.
Chief Inspector Charles Chester told the court that the complainant and Jamilu live at Old Fadama, Accra.
On January 22, this year, at about 8:00 pm the accused person organized a magical display in a guest house at Old Fadama and the complainant was one of the audiences.
During the magical display, Jamilu conjured some alcoholic sachet drinks and gave some to seven persons among the audience and they drank.
Jamilu then slashed the seven people with a cutlass and shaving blade but they did not sustain any injury on their bodies.
The prosecutor said the complainant also became interested and took one of the conjured drinks, after which the accused slashed him with a cutlass, but there was no injury.
However, when Jamilu used the shaving blade on the complainant he sustained a deep cut on his head.
The matter was reported to the Police and Jamilu was arrested.
GNA