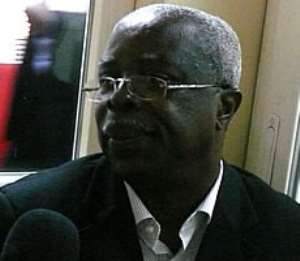 Dr Yeboah
The Director of Customer Services at the Electricity Company of Ghana, Dr N. K. Smart Yeboah says he is scandalised, embarrassed and humiliated by the sheer scale of corruption and inefficiencies at the state power distributor.
He said he was even more disturbed by the realisation that both male and female employees of the company are guilty in equal measure of the shameful practice of extorting money from customers.
The Head of Public Relations at the ECG, Mrs Gloria Dua-Sakyi, agreed.
Eight months' investigations by Crusading Guide reporter Anas Aremeyaw Anas uncovered meter tampering, stealing and selling of meters at exorbitant prices, power diversion, stealing of cables, juicy allowances for ECG Board members (some of who take as much as GHS9,000 a month), closed accounts and company indebtedness to the tune of almost GHS400 million, amongst others.
Dr Yeboah, speaking on Joy FM's Super Morning Show Tuesday, conceded the issues captured in the investigative piece are largely accurate.
The list of companies owing the ECG, he said, "fairly represents" the true situation on the ground but explained that "it's a dynamic list; it changes."
As of November ending last year, Dr Yeboah said the ECG was owed GHS384 million – private companies and organizations owed 67 per cent with the government holding the remainder.
According to him, the ECG cannot be faulted much for the situation because with respect to the Ministries, Department and Agencies, it is the responsibility of the government to pay their bills and if for some reason the government is unable to do so, much cannot be done.
As regards the large companies which are owing, Dr Yeboah stressed that ECG has a duty to help businesses stay in business "because our continuous existence depends upon the continued existence of businesses," and as a result such companies and the MMDAs are given a certain dispensation even when their bills are piling up.
How fair is this arrangement given that domestic consumers do not enjoy such compensations,? he was asked. "That is a difficult question," he conceded.
Ghana, he said, allows a 42-day credit period for utility consumers but conceded that is exceptionally generous because in a country like Kenya, the credit period is seven days.
The reference to the 42-day credit period almost brought the architect of the investigation, Anas, to his feet. "I don't have issues with the 42-day rule, it has always been there but when you look at the analysis and the investigations that have been done, we are not talking 42-day rule. These are people who owe consistently; somebody is owing GHS5 million and we are talking about 42-day rule? What are we talking about? At the end of the day, the unfortunate part is that it would be passed onto the consumer to pay for and then we say we are being business friendly. He should tell me in the world where this is practiced."
He didn't end there, Anas took on Dr Yeboah on the question of closed accounts insisting: "If it was as nice as Mr Smart Yeboah wants it to look, then we wouldn't have Closed Accounts. Tell him to tell us about Closed Accounts; companies which have run million of cedis and have closed their companies and have gone home and the debt is on the Ghana Government, is on the tax payer to pay, he should comment about closed accounts. Why do we have closed accounts"? he asked.
"Well if your business has gone out of business obviously the account has to be closed," Dr Yeboah supplied, but Anas replied, "Yes it went out of business because nobody went for the money, the person found a smart way and went out of that business and formed another one...Tell me the million cedis of debt that has been accrued as a result of closed accounts and what ECG as a company has done; the legal department, what have we done with regard to closed accounts"?
Responding, Dr Yeboah said some companies were being prosecuted.
An unconvinced Anas said if the ECG did due diligence, it would know companies that are capable of settling their bills and will not wait only for companies to consume power, pile up debt and fold up.
Story by Ghana/myjoyonline.com/Malik Abass Daabu