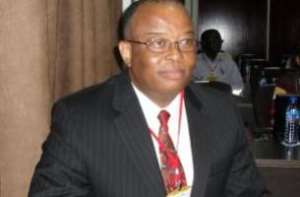 Accra, Jan. 23, GNA - Professor Fred Binka, Dean of Public Health, University of Ghana, on Monday said a strong and effective partnership was needed in order to achieve malaria eradication.
He noted that it was possible for Ghana to eradicate malaria since other countries had made it and cited United Arab Emirates and Morocco all in Africa which were certified in 2010 as malaria free countries. Five other countries in Europe have also almost eradicated malaria.
Speaking at a partnership meeting for malaria elimination on "Winning the Cup of Cup of Nations-AFCON 2012 and the fight to eliminate Malaria" in Accra, Prof. Binka explained that the control and eradication of malaria would involve the contribution of every sector in the country.
The event, organized by the United Against Malaria (UAM) in collaboration with the National Malaria Control Programme, John Hopkins United Centre for Communication Programme and Voice for Malaria-Free Future, was directed at tapping into the enthusiasm and support for the Ghana Black Stars to win the AFCON 2012.
It was also to promote advocacy for malaria elimination and to launch the AFCON edition of the Goal and the 13 Winning Moves Against Malaria Chart for the Public and Private Sector on the eve of Ghana's first match.
Prof. Binka noted that other key strategies, which when adopted would help in the elimination process, were substantial increase in funding, focused research for strategic implementation of interventions and the development of new tools.
He said Ghana had the most effective anti-malarial drugs in the history of malaria control, which is the ACTs and said with "prompt access to these drugs, no child or women should die from malaria".
Funding commitment to global malaria, he said, peaked at two billion dollars in 2011, which was still far short of the estimated five to six billion needed annually to sustain the current trend in the decline in morbidity due to malaria.
He called for new partnerships from oil producing countries and the new economic giants such as China since success could only be achieved through strong partnerships with these countries.
Dr Gloria Quansah-Aasre, Acting Director-General of the Ghana Health Service said the road ahead in achieving a near zero deaths and elimination of malaria by 2015 appeared to be longer and could be more apt than strengthening partnership for improved programmes and service delivery.
She reiterated the need for a stronger partnership to eliminate malaria, adding "if others have done it, then we can also do it".
Dr Constance Bart-Plange National Malaria Control Progrmme Manager, who launched the Advocacy and communication materials, commended the UAM for producing the materials, especially on the eve of Ghana's first match in the AFCON.
GNA