Like a first date - Gabon coach revels in first Cup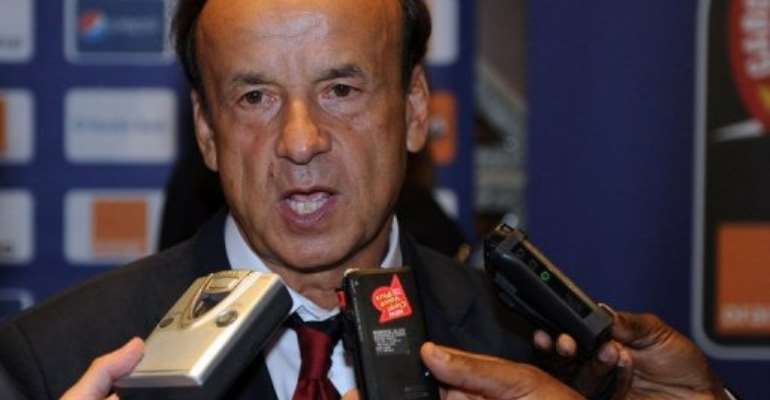 LIBREVILLE (AFP) - In the surreal surroundings of Gabon's gutted national stadium here Saturday Gernot Rohr likened his debut experience at the Africa Cup of Nations to a first date.
The youthful looking 58-year-old told AFP: "My first Nations Cup - it's a beautiful adventure, I'm happy to live through it. It's like the first time with a woman, it makes your heart beat faster - that's what it's like.
"It's nice to experience that at my age!"
Rohr was speaking after conducting a training session at the Omnisport stadium in the heart of the Gabon capital.
Initially it was intended to be the flagship venue at the 2012 Cup but work on modernising it started late, and in the end the brand new Chinese-backed L'Amitie Stadium outside Libreville was built.
The stadium has been stripped bare to a hulk of concrete, the only colour the velvet green turf.
Silent witnesses to the Gabonese run-out comprised three giant cranes, a couple of overworked cement mixers, scaffolding reaching to the sky, 50-odd workmen dangling from the stadium's superstructure, mountains of sand, and a handful of reporters.
Drilling and banging echoed around the empty Gabonese footballing cathedral.
"It's a shame we can't use this stadium and this pitch, it's beautiful," commented Rohr looking around him fondly at the building site.
The former teammate of Franz Beckenbauer at Bayern Munich in the mid-1970s is continuing the long tradition of foreign coaches put in charge of African sides.
His cv tells of previous stints with French first division outfits Bordeaux, Nice and Nantes.
In Gabon he believes he has a talented bunch of players including Daniel Cousin, the former Hull City striker, yet the fact that they haven't kicked a ball in anger in two years weighs on his mind.
"We haven't played a competitive match in two years so yes of course at last we have one coming up on Monday.
"Two years of friendly matches is never easy, but we're not the first team to do this, we're motivated to enter into competition."
At the 2010 Nations Cup in Angola Gabon started brilliantly with a 1-0 defeat of four-time champions Cameroon, with Cousin scoring.
They held Tunisia, who they face again in Group C, to a goalless stalemate but after defeat to Zambia they were edged out of a quarter-final spot on goals scored, by Cameroon.
On Monday the co-hosts face Cup first-timers Niger, with Tunisia and Morocco to follow.
"Beware of predictions! We don't think Niger will be the easiest match, in fact it could well turn out to be the most difficult. We're approaching it with a little bit of apprehension.
"But we're well prepared, solid both on the pitch and mentally, there is a slight lack of confidence but we are all motivated and want to exploit all the chances we have."
Cousin, who is now locally-based, added: "Can we win the Cup? That's hard, but we'll go out and do our job. We've got a good mix of experienced players and youngsters who add power to the side.
"We started well in Angola and we have to do the same here, if we beat Niger and win our second match who knows what can happen?"