Madagascar's ex-leader walks out of unity government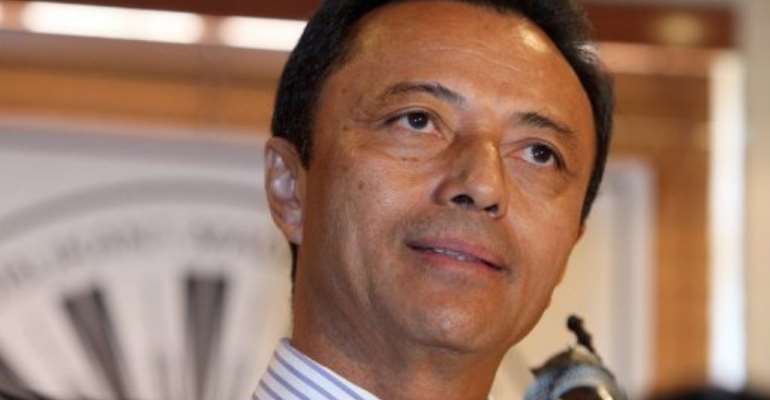 JOHANNESBURG (AFP) - Madagascar's ousted leader Marc Ravalomanana's party on Saturday walked out of a fledgling unity government, after the island nation barred him from flying home to end his three-year exile.
The self-made millionaire, driven from power by disc jockey-turned-politician Andry Rajoelina, had boarded a commercial South African flight in Johannesburg on Saturday morning, saying he was confident of a safe return.
But in mid-flight, Madagascar closed its airspace, forcing the aircraft to head back to Johannesburg, said Karin Murray, spokeswoman for SA Airlink, a unit of South African Airways.
"Rajoelina doesn't have the political will to solve the crisis in Madagascar. This is proof to the world," Ravalomanana told AFP as the flight was returning after his return was blocked for the second time in less than a year.
Shortly after his arrival in Johannesburg, where he has lived most of the last three years, his party walked out of the transitional government, formed just two months ago among the country's main political parties.
"Starting from now, the ministers will no longer participate in the Council of Ministers, and the parliamentarians will not participate in the next session, which starts Monday," said top party official Hanitra Razafimanantsoa.
"Nothing but the return of president Ravalomanana will satisfy his supporters," she said.
Thousands of people had filled the road leading to Antananarivo's airport from the capital, blocking all traffic as they sought to greet Ravalomanana, an AFP correspondent reported.
The crowd remained largely calm despite the rainy afternoon, even as news trickled through that the flight would not be allowed to land.
Ravalomanana's spokesman Peter Mann warned of dire consequences for the "roadmap" signed last year by the island's main parties in a bid to steer the country toward elections.
"This is an act of utter foolishness. It's highly dangerous" for the passengers on board, he told AFP. "It sets the whole political process back enormously."
A transitional government was formed in November, in a deal that allows the return of political exiles. Another deposed leader, Didier Ratsiraka, recently returned from exile in France without incident.
But security forces had warned Friday that Ravalomanana would be arrested if he returned, after he was sentenced to life in prison and hard labour for the death of 30 opposition protesters killed by his presidential guard in February 2009.
The roadmap explicitly called for Ravalomanana to be allowed to return and for the transitional parliament to ratify an amnesty for "all political events" between 2002 and 2009 except for war crimes, genocide or major human rights violations.
But an "explanatory note" attached to the deal cast doubt on whether existing convictions would in fact be cleared.
Roland Ravatomanga, an aide to Ravalomanana who was named agriculture minister in the unity government, said the decision to shut down the nation's airspace was a "surprise".
"It's clear that the transitional president (Rajoelina) doesn't want to apply the roadmap. For us, it's a unilateral decision, as usual," he told AFP.
Madagascar has been isolated by the international community since Ravalomanana's ouster, with the African Union and the Southern African Development Community suspending its membership until a return to constitutional order.
Many in Madagascar are eager to see an end to the crisis, which has taken a toll on the island's economy. Income per capita has fallen from $998 in 2008 to $943 in 2011, according to the International Monetary Fund.
Former colonial power France, the United States, and regional powerhouse South Africa all urged the transitional government to honour the roadmap.
"There's been a lot of progress. The roadmap has been signed. As far as we're concerned, everything that needs happen must happen within the context of the roadmap," said South African foreign ministry spokesman Clayson Monyela.
Ravalomanana had tried to return home in February last year but was blocked at Johannesburg airport by airline officials who said Madagascar's aviation authority had been ordered to turn away any aircraft that had him on board.