Somali govt forces vow to eradicate Shebab militia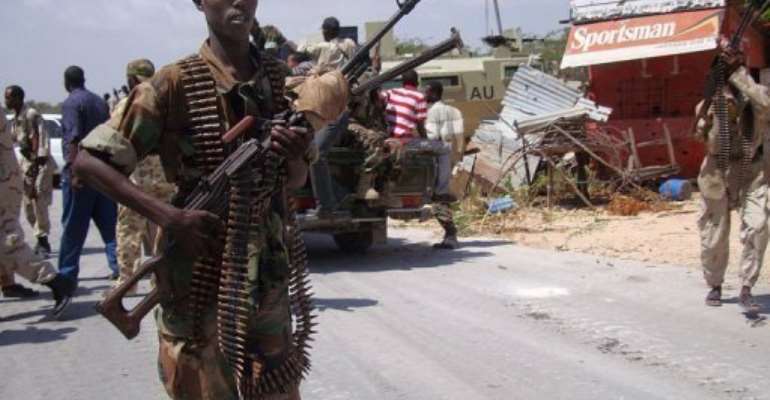 MOGADISHU (AFP) - Somali transitional government forces vowed Saturday to rid Mogadishu of all "violent elements," a day after a major offensive aimed at dislodging Al-Qaeda-linked Shebab militia from the capital.
"There are still a few pockets of resistance of the defeated terrorists. They launched at least six desperate counter-attacks last night, but the TFG (government forces) and AMISOM (African Union Mission in Somalia) troops have repelled them," a government military official said as the Shebab vowed to fight on.
"Our forces consolidated the positions they captured yesterday and the situation is quiet this morning, but the military campaign to eliminate violent elements from Mogadishu will continue," added the official, Abdulahi Mohamed.
Meanwhile an official in Galmudug, a semi-autonomous province of central Somalia, said a foreigner had been kidnapped there.
The foreigner of unknown nationality was on the airport road near the town of Galkayo "when two pickup trucks full of gunmen stopped the vehicle and took him away," he said.
Mohamed said six Somali government troops had been killed and 18 wounded since the start of the offensive in Mogadishu.
An AFP photographer said three Somali soldiers and a government official were killed when Shebab fighters attacked a convoy including journalists near the front line.
Mohamed said Friday's offensive left 22 Shebab fighters dead, a claim denied by the rebels, who also said they withdrew from some positions for tactical reasons.
"The Christian enemy and their allied apostate Somali troops attacked our positions from four directions," Shebab spokesman Sheik Abdulaziz Abu Musab told reporters.
"They have failed to penetrate at least three of the directions but managed to cross one road where they have lost many soldiers including senior military officials," he said.
"The fighting will continue and, God willing, the enemy will have the final bad consequences of the war," he added.
Witnesses said AMISOM and government forces later used heavy artillery to counter an ambush mounted by the Shebab after the offensive was over.
"We haven't slept well last night because of the heavy shelling," said Abdinasir Ahmed, a resident. "There was light all over the sky in (the northern) Arafat area (of Mogadishu) last night," adding that he saw at least eight bodies after the clash.
Somali government forces launched the offensive on Friday to root out the last Shebab holdouts north of Mogadishu.
Hardline Shebab fighters abandoned fixed positions in most of Mogadishu last August but continue to control small pockets on the outskirts.
AMISOM boasted that Friday's offensive had allowed it for the "first time ... to secure an area outside" the city, although it has pushed outside the city in other sections in earlier assaults against Shebab positions.
The fighters have largely switched to guerrilla tactics in Mogadishu, launching a string of attacks including roadside bombs and grenade explosions against the weak Western-backed government and AU troops.
The AU force has been battling the Shebab and defending the Western-backed government since 2007.
Armies from neighbouring countries are converging on the Shebab -- Kenyan forces in the far south, Ethiopian soldiers in the west -- in addition to the AU forces in Mogadishu made up of 10,000 troops from Uganda, Burundi and Djibouti.
Kenyan military spokesman Cyrus Oguna said in Nairobi Saturday the Shebab "is now facing serious challenges as far as command and control is concerned and logistical support," and would soon be "completely buried."
AMISOM commander Major Fred Mugisha has said that 98 percent of Mogadishu is free, but the city remains one of the world's most dangerous amid a severe humanitarian crisis and devastation from more than 20 years of conflict.
Somalia was the hardest hit country in the Horn of Africa region by a recent drought that left some 12 million people facing extreme hunger.
The United Nations says that despite massive international aid, famine still stalks three southern Somali provinces, affecting some 250,000 people.
Somalia has been without an effective government and beset by civil war for the past two decades.