Traditional Ruler calls for attitudinal change towards PWDs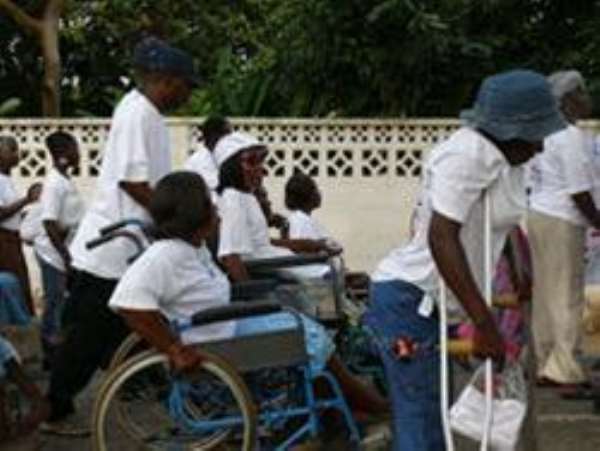 Essaso (E/R), Jan 20, GNA - Nana Obutu Frimpong, Chief of Essaso in the Asamankese Traditional Area of the West Akim District, has stated the need for attitudinal change towards Persons With Disabilities (PWDs), saying "accepting them as kith and kin is premier".
He was speaking to the Ghana News Agency (GNA) at Essaso in the Eastern Region, after meeting elders and opinion leaders of the area to discuss development projects, living conditions of the people, falling standards of education and the physically challenged in society.
The chief stressed the need for PWDs to be integrated into the main stream society to enable them to fully participate in and contribute to national development.
He expressed regret that society had not stopped looking down on PWDs as objects of pity, charity and rituals.
Nana Obutu, also an Accra-based businessman, called on the well-to-do in society to help sensitize communities about their assistance to the physically challenged and also inspire the PWDs to take their destinies into their own hands and face the challenges that confront them.
According to him, the rights and dignity of PWDs must not only be respected, but also promoted and protected.
He cited a front page Daily Graphic story on Tuesday, January 3, 2012 captioned: "Persons With Disability stranded – six years after passage of ACT 715" to buttress his points.
He was not happy that most premises of law makers and implementers, government infrastructures and NGOs lacked adequate facilities which are not disability friendly.
He, therefore, called on government and NGOs to endeavour to help provide appropriate facilities accessible to and available for use by a person with disability.
He stressed that the government was committed and determined to enhance the social well-being of all including the PWDs, hence, the setting up of the National Council for Persons with Disabilities, to implement the law and therefore, called for government's readiness to provide any assistance that would be necessary to ensure the success of their standards of living.
He had earlier told the meeting that the political discourse in the country had been reduced to a contest of trading insults and casting of aspersions with the intent to destroying people's hard won image and reputation.
He was emphatic that private tertiary education was being brought to the door-steps of the people, the high fees being charged was scaring parents to send their children to those institutions.
GNA