S. Africa's ANC to hear Malema's suspension appeal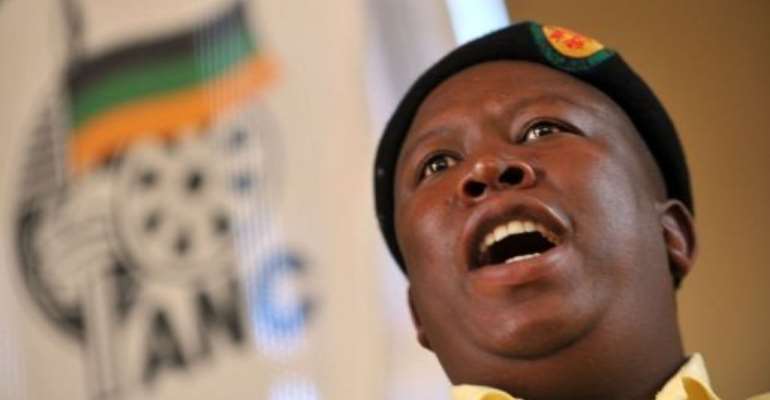 JOHANNESBURG (AFP) - South Africa's fiery youth leader Julius Malema is expected to come out all guns blazing to ward off a career-threatening five-year suspension from the ruling party as his appeal hearing begins Monday.
Malema and five other leaders of the African National Congress Youth League were convicted of misconduct in November, but they are expected to argue that they were not allowed to plead for a lesser penalty.
"Their defence is likely to exploit a loophole in the disciplinary process that they were not allowed to testify in mitigation of sentence," said Prince Mashele, who heads the Centre for Politics and Research.
"The nature of their arguments is going to be the deciding factor, whether they uphold, or relax the punishment," he said.
The case is often cast as part of President Jacob Zuma's efforts to consolidate his control over the party ahead of its leadership conference in December, when he will seek a second term at the helm -- which Malema opposes.
Malema remains the youth leader until his appeals are exhausted, a process that could run up to the December meeting, if he asks the National Executive Committee to hear him.
He was found guilty of sowing divisions within the ANC, misconduct and bringing the party into disrepute, following weeks of hearings that were marred by violent protests.
The charge of bringing the party into disrepute stemmed from his call for a regime change in democratic Botswana.
Malema and the Youth League apologised for the statement. He is likely to argue that the disciplinary committee should have dropped the charge because of the apology.
"It appears as if Malema and company won't be necessarily challenging the findings of the disciplinary committee," added Mashele.
"They are unhappy about the harshness of the punishment," he said.
The committee comprises senior party leaders, including businessman Cyril Ramaphosa, Justice Minister Jeff Radebe and national planning minister Trevor Manuel.
According to the ANC constitution, no new evidence may be introduced during the appeal process.
"I don't think Malema will get off the hook. He is headed for political wilderness," said political analyst Zamikhaya Maseti.
If he exhausts all avenues of appeal, Malema, now 30, would be too old to return to youth politics by the time his suspension ends.
"It might be a little better for him to get it reduced to two or three years," said Maseti.
"That might give him a bit of time to make a comeback, but coming back from a political wilderness after five years won't be good for his career," he added.
"Dark clouds are gathering around him," Maseti said.
But Malema's political gloom hasn't slowed him down. Instead, it has deepened the rift between himself and Zuma, the man he once said he would kill for.
He continues to call for nationalising mines, forcing a formal debate on the issue even though party policy is currently against it.
Since his suspension, Malema has addressed rallies and ridiculed Zuma's leadership. He has also suggested that Zuma should be replaced as party leader.
In October, Malema led an unprecedented march by the country's unemployed youth, from Johannesburg to the capital Pretoria.
Some senior ANC members, like Winnie Madikizela-Mandela and party treasurer general Mathews Phosa have shown support for Malema, popularly known as Juju, arguing that he is a just a child of the movement.
"I know Juju is worried about the (disciplinary appeal hearing), but I want to assure him that the ANC has no dustbin for comrades," Phosa told City Press newspaper.
"If comrades make mistakes, we find a mechanism to address them," he said.