Ethiopia hunts tourist killers after volcano attack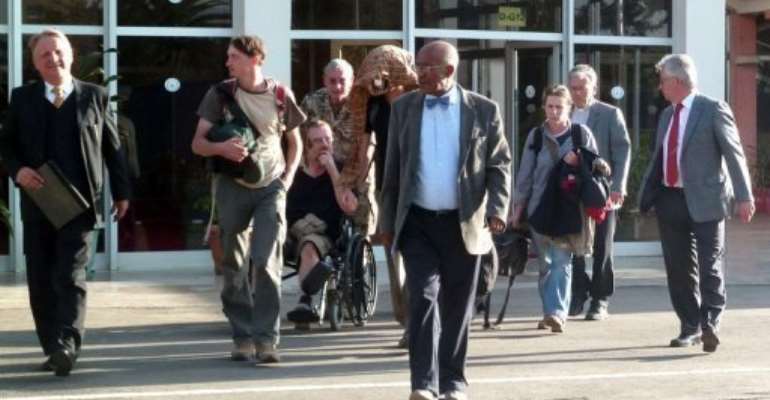 ADDIS ABABA (AFP) - Ethiopian security forces on Thursday searched for gunmen who killed five Europeans and kidnapped two on the slopes of the famed Erta Ale volcano, an area often described as "hell on earth".
No group has claimed responsibility for Tuesday's pre-dawn raid, which struck a group trekking in the Afar depression, home to spectacular moon-like landscapes but also to elusive rebels and close to a tense border.
The region's worst attack on tourists in years stoked simmering tensions between neighbours Ethiopia and Eritrea, with Addis Ababa promptly blaming its arch-foe and threatening a robust response.
"We are working on how to respond to the attack... there are security operators there," Ethiopian foreign ministry spokesman Dina Mufti said.
Two Germans, two Hungarians and an Austrian were killed in the attack, officials said, while two other Germans are believed to have been kidnapped and several others in the group of 22 wounded.
"We don't have any detailed information on where the missing could be," a German foreign ministry official told AFP, adding that six Germans were among 12 tourists who had been brought to safety.
The tourists were trekking near the volcano, one of Africa's most spectacular, which lies in the remote Afar -- or Danakil -- depression, a northern region known as one of the hottest places on the planet.
Despite -- or perhaps because of -- the hostile environment and difficult access, the spot remains popular with adventure backpackers, photographers and nature buffs seeking the holiday of a lifetime.
Austrian Gerhard Heindl was one of them.
"The desert always fascinated him. Gerhard was aware of the risks but decided to go anyway," the Kronen-Zeitung paper quoted the slain 56-year-old banker's uncle as saying.
"Terrorists have killed my darling," his wife Anneliese told another paper.
In 2007, five European nationals, including British embassy staff, were captured by the Afar Revolutionary Democratic Unity Front rebels (ARDUF), who freed them after 12 days.
Ethiopia however was adamant Eritrea was behind the latest attack.
"We are inquiring as to the details but definitely they are the ones who have carried out the attack," Dina Mufti said.
Asmara has vehemently denied any involvement, describing the allegations as "ludicrous" and a "smear campaign."
Ethiopia "routinely seeks to blame Eritrea for military acts of home-grown internal opposition movements," an Eritrean ministry statement read.
Eritrea broke away from Ethiopia and won independence in 1993 after a 30-year struggle, creating a new border that further divided the Afar people's ancestral land.
The two Horn of Africa neighbours fought a devastating 1998-2000 border war which claimed at least 70,000 lives and their dispute remains unresolved, with Ethiopian soldiers on land ruled by international courts to belong to Eritrea.
The killings and kidnappings have dealt another blow to regional tourism after kidnappings in Kenyan resorts and attacks on yachts by Somali pirates.
Some of the survivors were airlifted back to the capital Addis Ababa on Wednesday afternoon but the details of their ordeal remained unclear.
Erta Ale, or "Smoking Mountain", is an active volcano near the Eritrean border. Visitors to the region need permits and security escorts because of incidents of banditry.
The desolate scrubland, which lies below sea level and is dotted with volcanoes and shallow salty lakes, featured as the dramatic backdrop to scenes in Hollywood's 2010 epic fantasy "Clash of the Titans".