Bawumia's electoral strength is insignificant but… - Arthur K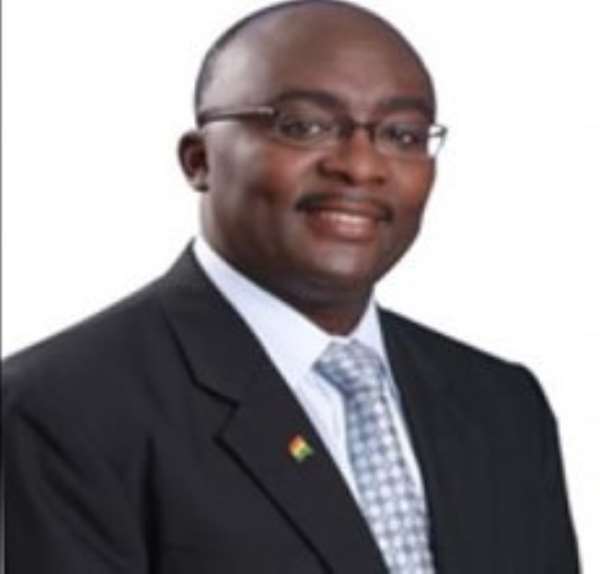 Dr Mahamudu Bawumia
Barring any unforeseen circumstances, the NPP's flag-bearer, Nana Akufo-Addo is expected to name an economist, Dr Mahamudu Bawumia, as his running mate for the 2012 general elections later today, Tuesday, January 17, 2012.
Meanwhile, the head of the communications team in the 2008 elections, Dr Arthur Kobina Kennedy, has been weighing the choice of the former Deputy Governor of the Bank of Ghana on Joy FM's Super Morning Show on Tuesday.
According to Dr Kennedy, though Dr Bawumia is the best choice to partner Nana Addo, the votes he will bring to the ticket would be insignificant.
Nevertheless, he observed that retaining the 2008 running mate, a technocrat, would greatly inure to the benefit of the party and the state if the NPP wins power.
"[Dr Bawumia], in theoretical terms, is more of a governing choice than an electoral choice. I think that his electoral strengths may not be that significant as we saw the last time.
"But once Nana Addo gets into office, as a technocrat and an economist in a world where economic issues have become very significant, you can argue that he will be a very significant aspect in handling some of those challenges."
Conceding that Dr Bawumia "was not helpful to the ticket the last time (2008)", Dr Kennedy however warned members of the party that the road to victory doesn't lie in the choice of a running mate, but hinged on hard work.
"The important thing is the hard work needs to be done. I think that Nana, and for that matter, Bawumia, Jake and all those other people must recognise that this election is not going to be won just by the choice of a running mate, there is a lot of hard work that needs to be done, and that a lot of people need to help in that work including those who were considered but not chosen."
He debunked claims that Nana Addo intends going for someone he can control and not a person who will challenge his authority, hence his choice of Dr Bawumia.
Dr Arthur Kennedy also stated that the 2012 general elections would be a referendum on Mills-led administration.
"In terms of the 2012 elections, I think it would be a referendum on the Mills administration. I think Ghanaians would be basically trying to say whether they think president Mills and the NDC have done a good enough job to continue, or whether they have failed and they need to be changed.
"To the extent that Ghanaians believe they have done a good job then what the NPP does would not matter as much to the extent that they think that the NDC has not done a good job, then they will be looking for alternative, and the NPP appears to be the most viable alternative. That would be my theory going into this election year."