Odorna railway squatters given ultimatum to quit the area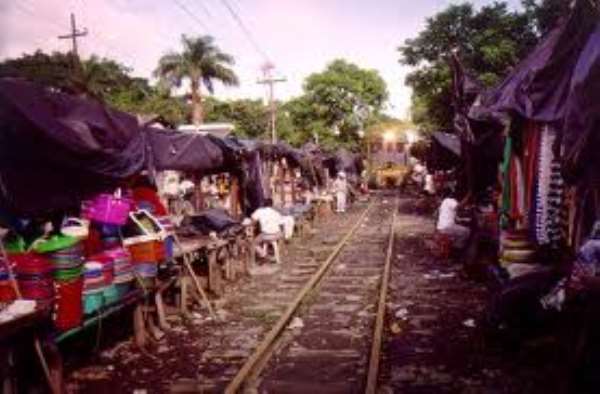 Accra, Jan 17, GNA - Squatters at the Odorna railway line near the VIP bus terminal at the Kwame Nkrumah Circle, were on Monday given a three-day ultimatum to leave the area for the clearing of debris.
Mr Alfred Oko Vanderpuije, Chief Executive of Accra Metropolitan Assembly (AMA), who gave the order, said the area, which caught fire on January 15, 2012, was under six high tension cables and it was extremely dangerously for people to live in the place.
The AMA boss, who led a team of assembly members to ascertain the cause of the fire outbreak and damage it has caused to property, said AMA would start clearing the area by Friday January 20.
The fire, which ravaged structures and other property running into thousands of Ghana Cedis, also affected one of the six high tension cables cutting electricity to some parts of Accra.
Mr Vanderpuije explained that there was the need to clear the place to avert a national disaster and commended the Ghana National Fire Service for responding swiftly to the incident.
He said: "We have a responsible to protect national interest", and asked those who wanted to rebuild structures in the area to follow laid down procedures.
Some squatters, who spoke to the GNA, called for the clearing of the entire area and not only the part under the cables.
Mr Benjamin Cole, who owns about eight structures in the area, was of the view that the whole area should be cleared and said: "every one should be asked to leave and not some.
After all the area has been a den for criminals and prostitutes"
GNA