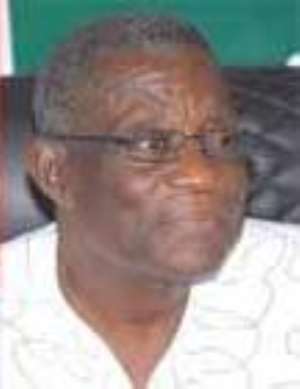 President John Evans Atta Mills has again failed the corruption litmus test by allowing his appointees to conspire with Ghana's only Trillionaire, Alfred Agbesi Woyome, to fleece the country of almost ¢1 trillion. This came to light when the President held a press conference with some local and international journalists dubbed "Editors Forum", at the Castle, Osu.
Sweating profusely under cold temperature, President Mills desperately tried to answer a number of questions, most of which centered on the Woyome Scandal, in the process, contradicting and indicting himself and the high office that he occupies. In an answer to one of such 'heavy' questions which got him clearly dazed and swaying, President Mills admitted his appointees who facilitated the payment of the nearly ¢1 trillion to Mr. Woyome, were "criminally minded and irresponsible". Hear him: "I have been vice-president and I have been president for 'twhree' years. I know it is criminal, irresponsible, the height of naivety, for a president to call his minister of finance and say, pay this man this. When I know the plight of our people, when I know our people are crying for water, basic necessities of life, how can I be so criminally minded, so irresponsible and say give ¢58 million to one person"? However, since the said money has already been paid to Mr. Woyome, it is believed that President Mills was referring to his appointees who facilitated the payment, as criminal minded and irresponsible. The appointees include then Attorney and Minister of Justice, Betty Mould- Iddrisu, Minister of Finance Dr. Kwabena Duffuor, Governor of Bank of Ghana, Dr. Paa Kwesi Amissah-Arthur, and Controller and Accountant General, Mr. R.K. Tuffuor. As usual the president made the comments in his timid manner.
What continues to bother the minds of the good people of this country's is the president's failure to take decisive steps to sanction in any form, his appointees involved in the biggest financial scandal in the history of the country. It will be recalled that then Candidate Mills, prior to the 2008 elections, did not spare any opportunity to promise Ghanaians that he will make corruption very unattractive when he is voted as President. On the contrary, under his leadership, corruption has become so attractive to the extent that the founder of the NDC Ex-President Mills has described Presidential appointees as greedy bastards, with Ministers of State building twin mansions and buying luxurious BMWs.
Even more worrying is the fact that in all the correspondence leading to the payment of the nearly ¢1 trillion to Mr. Woyome, the President's Chief of Staff Henry Martey Newman, himself a lawyer, was informed. As to why he failed to inform President Mills of this very important matter and as to why the president continues to shield the man by keeping him in office, remains a mystery. Word making rounds on the corridors of the Castle suggest strongly that the President was fully briefed on the payments to Mr. Woyome, and gave it his blessing.
This will not be the first time that Professor Mills has been embroiled in some financial malfeasance as boss of Ghana's economy. It will be recalled that in 1999, as Chairman of the Economic Management Team, Vice-President John Atta Mills watched helplessly as the country was swindled of $20million by a young American lady, Miss Renee Juliet Cotton. She was ably assisted by then Minister of Finance and now head of SSNIT, Mr. Kwame Preprah, then Minister of Agriculture and now Chairman of Agricultural Development Bank, Mr. Ibrahim Adam, and then Special Legal advisor to the Minister of Finance and now Chief Executive of the Ghana National Gas Company, George Sipa Yankey. These appointees were subsequently jailed by a competent court of jurisdiction in 2003.
At an IEA-organised media encounter, in the run-up to the 2008 general elections, then Candidate Mills apologised to the good people of Ghana for being a poor judge of character, by surrounding himself with the above mentioned appointees who swindled the State. He promised to appoint people with incorruptible character (like Martin Amidu?), to protect the national purse, when voted President; a promise he has failed.
With news of corruption in virtually all sectors of President Mills's administration pouring in everyday, whilst he looks on seemingly helpless, questions are being raised as to whether President Atta Mills can ever take any decisive action after the EOCO investigation into the Woyome scandal, (which he has been hiding behind) is over.
There are also those who strongly believe that President Mills has infact been benefitting from these acts of financial malfeasance in the form of campaign financing, tokens, and huge medical bills, thus his failure to take action against his corrupt appointees.
BY YAW P. K. MANU