Inflation Ends Year At Single Digit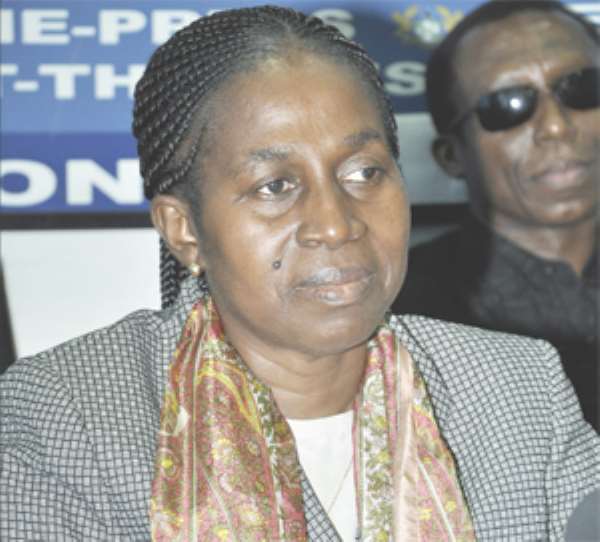 Dr Grace Bediako - Government Statistician
Year-on-year inflation ended the year 2011 at 8.58 per cent enabling government to achieve its inflationary target.
Inflation recorded 8.58 percent in December 2011, up from 8.55 percent recorded in November 2011.
However, there was an increment in general price levels in December 2011 as inflation shot up by 1.1 percent during the Christmas season.
Despite the fact that inflation, a major determinant of interest rates, remained below 10 per cent for the whole of the year, lending rates of commercial banks were still high at an average of 26 percent and making Ghana one of the few countries in sub-Saharan African region with expensive interest rates.
The Association of Ghana Industries (AGI) and other business groups have on several occasions expressed worry about the high cost of borrowing in the country.
According to the Monetary Policy Committee (MPC) of the Bank of Ghana report dated December 21, 2011, access to credit by small and medium enterprises and for mortgages was tightened on account of increase in additional security requirements.
However, there was an ease in the credit stance of banks.
Figures released by the Ghana Statistical Service (GSS) yesterday indicated that food inflation dropped to 4.27 percent in December 2011 from 4.4 percent recorded in November 2011 while non-food inflation inched up to 11.21 percent from 11.08 percent in November 2011.
The non-food group was the major contributor of the marginal surge in the general price levels.
In the food and non-alcoholic beverages group which has a weight of 44.91 percent, coffee, tea and cocoa; sugar, jam, honey, syrups, chocolate and confectionary and meat, recorded inflation above the national average.
Vegetables, including potatoes, tubers, fruit and other food products; milk, cheese and eggs and mineral waters, soft drinks and juices, recorded the least inflation rates below the average food inflation rate.
In the non-food group category, six sub-groups recorded inflation rates above the group's average of 11.21 percent.
They included transport (22.70 percent), miscellaneous goods and services (19.02), clothing and footwear (13.11), furnishings, household equipment (13.07 percent), alcoholic beverages, tobacco and narcotics (11.38) and recreation and culture (13.50 percent).
However, prices of products in the communications and education sub-groups as well as hotels, cafes and restaurants recorded the lowest and most stable inflation rates during the month.
With regard to the regions, inflation remained high in Western, Ashanti and Central regions despite a marginal drop in the national rate. These meant prices of items were up in these regions
While the Central and Ashanti regions recorded inflation of 11.15 and 10.49 percent respectively, the Western region recorded an inflation of 9.18 percent.
The Greater Accra region, the biggest region in terms of population, recorded inflation of 8.30 percent.
Upper East and West recorded the least inflation rate of 5.55 percent followed by Volta region (5.95 percent) and Northern region (6.48 percent).
By Charles Nixon Yeboah