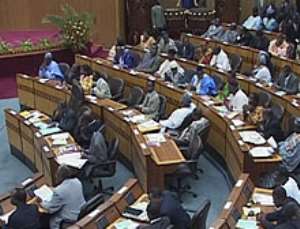 Accra, July 9, GNA - Ghana has been identified as among nations with the lowest percentage of women parliamentarians in Africa whilst South African is rated among the highest.
Nana Oye Lithur, a legal practitioner and executive member of the International Federation of Women Lawyers (FIDA), noted that whilst in Ghana the highest-ranking woman parliamentarian is the Principal Assistant Clark of Parliament, in South Africa the highest is the Speaker.
Nana Lithur was speaking during a roundtable seminar on Packaging the Achievement of Women Members of Parliament organised by the Friedrich Nuamann Foundation in collaboration with the Institute of Economic Affairs in Accra on Wednesday.
Speaking on "Participation of Women in Parliament; the South African Experience," Nana Lithur said South African had shown how a higher representation of women in their parliament (29.8 per cent) as compared to Ghana's (9.6 per cent) had facilitated a more effective participation and its impact on society.
She said both Ghana and South Africa were parties to relevant international and regional human rights instruments guaranteeing political rights, but South Africa had been able to achieve effective affirmative action.
Nana Lithur said strong women groups in South Africa's parliament had enhanced participation, effectiveness of women and the integration of gender considerations in parliament's deliberations.
However, in Ghana the absence of similar groups in parliament had resulted in the maintenance of the status quo of a male institution. She cited a South African Women's Committee, which, according to her, played an important role by examining the gender impact of bills and policies in Parliament and made significant impact and contributions on legislations.
On the other hand, no institutional changes had been made to the debate format, session and times of committee meetings in Ghana's parliament to accommodate women.
Nana Lithur said statistics indicated that although Ghanaian women had shown interest in political issues, they had been prevented from active participation.
She suggested that the nature of our parliamentary institution should be changed to make it more female-friendly and specific actions should be adopted to secure women's continued and enhanced access to the legislations.
Nana Lithur urged women parliamentarians to network across party lines, whilst mechanisms were adopted to encourage women to speak on the floor. She said topics for the debate should be expanded to include issues relevant to women.