Ghana's current political armed robbers and Dr. Kwame Nkrumah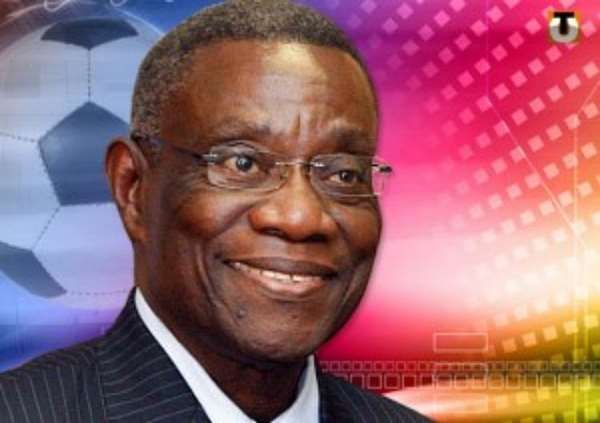 Mills a visionary or nation wrecker?
Even though every 6th March we march and dance, few Ghanaians are aware the difficulties Dr. Nkrumah went through before Ghana finally gained independence in 1957. When Nkrumah was brought in from Britain to act as the United Gold Coast Convention's (UGCC) Secretary, he came to find Ghanaians who were working with the British colonialists who were raping the nation while its people lived in complete illiteracy, ignorance, and disease.
Nkrumah was completely appalled by what he saw: lack of electricity, education, health and transport infrastructures. After watching how the British were duping the country he decided to stop it but the elite UGCC guys who had worked with the British imperialists wanted the system to continue for a while. Nkrumah said no. Ghana and its people must have their freedom and their resources used to develop the country for all the people to benefit. His message was "independence now".
Nkrumah was not a crook like Ghana's current leaders who are just like the British stealing oil, gas, gold, timber, and diamond without putting any of the money into the places that produced the resources. Nkrumah understood the needs of Ghana and Ghanaians and was prepared to make sure Ghana and its people had the best just like how a father would want his children to have the best in life. After becoming the Prime Minister in 1957, Nkrumah realised that Ghana could not develop as a nation without energy infrastructure. He instituted measures to have Akosombo dam constructed and despite frustration and sabotage from the British and the Americans, Dr. Nkrumah managed to have the dam completed in January 1966.
Nkrumah's aim was that Ghana would be the industrial hub of Africa just as Korea and Taiwan are the industrial hubs of Asia today. He wanted to proof to the world that the Blackman and indeed Africa is capable of building cities, and building and managing large scale factories and infrastructures. He constructed Tema City from scratch. He built Tema Harbour and linked it to Accra with the Tema Motorway to ensure smooth transportation of goods and people from the two cities. The Tema Harbour was also constructed to make sure that whatever Ghana produced could be exported and the money used to further develop the country. He established Kwame Nkrumah University of Science and Technology and Cape Coast University to serve as the training centre for Ghana's future engineers and scientists. Major industries were built across the country not only to offer employment for Ghanaians but also to add value to raw materials produced in the country before export.
In short Nkrumah's main aim for Ghana was to rapidly transform the country into industrial powerhouse and to bridge the poverty gap between Ghanaians and the British. Unlike Mills and his sycophants who can only promise but cannot deliver any tangible material thing, Nkrumah set about building factories, schools, universities, health centres and major roads. I mean all these were done within few years of taking office.
We are told that Nkrumah managed to carry out his goal to industrialise Ghana because he was handed a lot of money by the British. That argument may be true but just having money is not equal to development. To have money and also bring development to the people you will need to be visionary, to have a plan and ideas about what you can use the money for. That is the difference between Prof Mills and Dr. Nkrumah. President Mills now has access to millions of dollars from oil and gold but do we see any major project going on? That is the difference between someone who has money and can use it for development and someone who has money and cannot do anything.
Nkrumah decided not to steal the money he inherited from the British but rather to use it for total development of Ghana. But Mills despite claiming that the country has no money has been able to pay 58 million cedis to Alfred Woyome. Building one secondary school in Ghana will not cost more than 1 million cedis. That is if Mills had decided to use the money paid to Alfred Woyome to build secondary schools (just like the ones Nkrumah built in Koforidua, and in Accra) he could have built 58 secondary schools. Yes 58 secondary schools. But Mills and his NDC nation robbers and nation wreckers decided to rob the people of Ghana by sharing the money among themselves, building 20 million dollars national headquarters and rewarding party financiers with money that should go into providing water, electricity, schools, clinics and computers to schools in rural areas.
The districts in Ghana currently without secondary schools could have been given secondary schools but Mills said no, Alfred Woyome alone should have it so he can continue to finance the NDC at the expense of Ghanaians who continue to live in poverty and total deprivation. Mills and his NDC prefer Ghanaians to live in ignorance so that they can continue to manipulate them to achieve their own diabolical political intentions. Between 1990 and 2000 the P(NDC) sold 194 factories built by Nkrumah and squandered the money on Pajaros and Land Cruisers. They never thought about productivity and the future of Ghana.
But Mills and the NDC are not alone in the robbery of the country and denial of its people the basic necessities of life. Under Kuffour's administration Raymond Archer of the Enquirer caught Haruna Esseku, then NPP Chairman, talking about how the NPP cheated Ghanaians by charging 10% of every major project carried out in the country and then pocketed the money at the expense of the nation. Between 2001 and 2003 the Kuffour's administration also sold the 31 viable national assets to nobody knows who. Ghana Telecom now Vodafone was also sold before he left office. And the money? It is better to ask them.
Ghana today is a miserable poor country with massive unemployment, infrastructure decay, and the cities filled with filth thanks to the leadership of the leading political parties. The leadership failures coupled with the massive corruption in government has reduced the country and its people to beggars and its youth, children have been stripped of their future as is evidenced in our streets where Kayayos and children selling ice water has become the order of the day.
Ghanaians must free themselves from the tyranny of the corrupt NDC and the NPP. It is only when a people begin to see how bad and wicked their leaders have been to them that they will be able to overthrow them democratically. Be careful who you vote for.
By Lord Aikins Adusei
[email protected]