Bashir says Kadhafi regime's fall 'best gift' to Sudan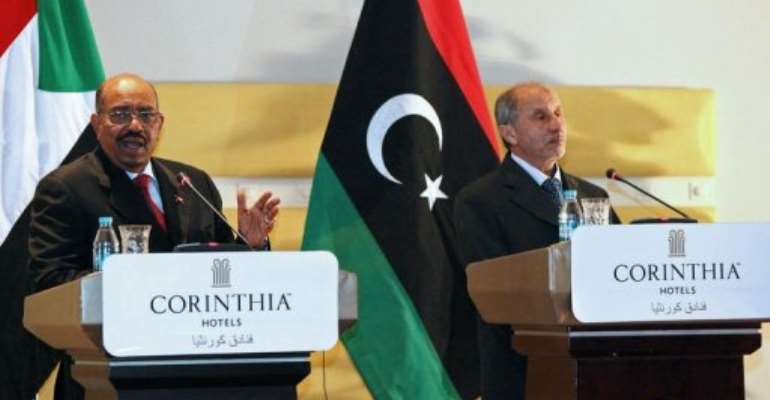 TRIPOLI (AFP) - Sudan's President Omar al-Bashir, wanted globally for genocide and war crimes, said on Saturday in Tripoli that the fall of Moamer Kadhafi's regime was the "best gift" to his country from Libya.
His arrival in Tripoli marked Bashir's first Libya visit since Kadhafi was ousted, but the trip faced strong criticism from New York-based Human Rights Watch, which said that hosting such an "international fugitive" sent troubling signals about the commitment of Libya's new rulers to human rights.
Wanted by the International Criminal Court (ICC) since 2009 on charges of genocide and war crimes in Sudan's war-torn Darfur region, Bashir said that after Libya, Kadhafi inflicted the most damage in Sudan.
"We came to thank the Libyan thwars (revolutionaries) for what they gave us, the best gift to Sudan in its modern history," Bashir, referring to Kadhafi's overthrow, said at a joint press conference with Libya's Mustafa Abdel Jalil, the head of the National Transitional Council.
"Injustice, aggression and violence led to the division of Sudan, and this had the direct support of Kadhafi," said Bashir.
"When I visited Libya (during Kadhafi's rule), everyone thought we were friends, but I was stabbed with a knife in the back," the Sudanese leader added.
Bashir, who claims that Sudan provided weapons to help oust Kadhafi, said the latest visit felt "like it was the first time," adding that he came to underline Sudan's support for the Libyan people and the country's new government that took charge after ending four decades of dictatorship.
Khartoum had an uneasy relationship with Kadhafi's Libya. The former Libyan strongman, who was also wanted by the ICC for suppressing the revolt against him, poured arms across the border into Darfur and long sought greater influence in Sudan's ravaged western region.
Bashir has claimed that a deadly 2008 attack on Khartoum by the Justice and Equality Movement (JEM), the most heavily armed Darfur rebel group, was financed by the Libyan government and fought with Libyan weapons.
In 2010, Kadhafi's regime offered sanctuary to JEM leader Khalil Ibrahim, who was killed in Sudan last month after his return to the country.
Libya's presence was felt in a different way in the capital Khartoum, where state-run Lafico, the Libyan Foreign Investment Company, spent 130 million euros (190 million dollars) building the Burj al-Fateh Hotel, which opened in 2008. With its egg-shaped design, Sudan's flashiest accommodation became a city landmark.
Richard Dicker, international justice director at Human Rights Watch, strongly criticised Bashir's visit to Libya.
"Omar al-Bashir is an international fugitive from an arrest warrant for genocide, crimes against humanity and war crimes," Dicker told AFP by telephone from New York.
"His arrival in Tripoli sends a disturbing signal about NTC's commitment to human rights and the rule of law."
Dicker said the rule of law should take precedence over political ties.
"Whatever the political history and ties between the NTC and Omar al-Bashir in the past, respect for human rights, not to mention concerns for hundreds of thousands of Darfur victims, takes priority," he said.
"This is what adhering to the rule of law is all about."
Sudanese rebels seeking to overthrow Bashir also urged Libya to arrest him.
"We are calling for the Libyan authorities to arrest Bashir and send him to the ICC because he committed crimes against his people in Darfur," Ibrahim al-Hillu, of Darfur's Sudan Liberation Army (SLA) faction headed by Abdelwahid Nur, told AFP.
He was speaking on behalf of the Sudanese Revolutionary Front formed last year that groups together two other Darfur rebel groups, including the JEM, and the SPLM-N rebels based elsewhere in Sudan.
He asked Libya's new leaders not to provide funding to Bashir "because he is using this money to kill" his own people.
When asked about Libya's approach to international justice, Abdel Jalil, standing alongside Bashir, said that "Tripoli was not outside Arab and African organisations."
Libya is not legally bound to arrest Bashir as it is not a signatory to the ICC's founding Rome Statute.
The fighting in Darfur, which first erupted between non-Arab rebels and the Arab-dominated Khartoum government in 2003, has killed at least 300,000 people, according to the United Nations.
Khartoum puts the death toll at 10,000.
Abdel Jalil, meanwhile, said Libya would invest in Sudan's agriculture and real estate sectors.