Nigeria's Boko Haram: a shadowy threat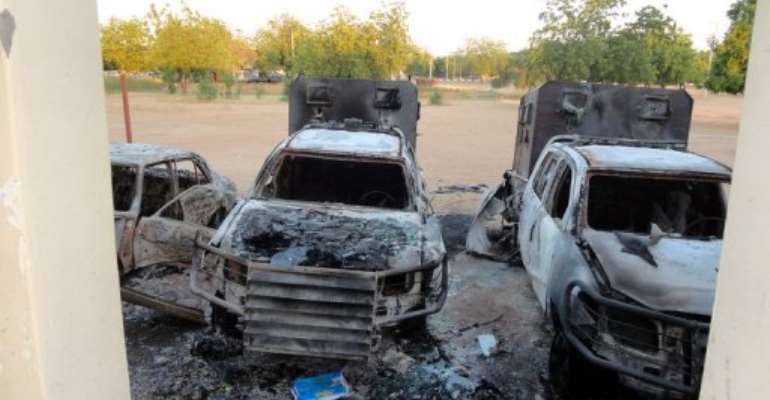 LAGOS (AFP) - Key facts on the shadowy Islamist group known as Boko Haram, blamed for increasingly deadly and sophisticated attacks including the gunning down of some 30 Christians this week in Nigeria -- Africa's most populous nation and largest oil producer:
ORIGINS: An early version of the group formed in 2004. Boko Haram means "Western education is sin" in the Hausa language spoken in Nigeria's north. It is believed to have a number of factions with differing aims, including some with political links and a hard-core Islamist cell.
AIMS: Initially claimed to be fighting for the creation of an Islamic state in the north, but a range of demands by different people have since been issued. One person who has presented himself numerous times as a Boko Haram spokesman, Abul Qaqa, on Sunday issued a three-day ultimatum for Christians to leave the mainly Muslim north. He has since claimed the group is behind attacks on church worshippers and Christian mourners this week.
CRIME: Criminal gangs are also believed to have carried out violence under the guise of Boko Haram. Conspiracy theories abound as well, including whether enemies of President Goodluck Jonathan, a southern Christian who faces strong opposition in the north, have backed the violence.
LEADERSHIP: Its first real leader was the late Mohammed Yusuf, who convinced young people to join him despite having only elementary knowledge of the Koran, according to one professor who has studied the sect. His former deputy Abubakar Shekau is widely believed to currently lead Boko Haram's main Islamist cell, which says it wants to be known by a different name, roughly translated as "People Committed to the Prophet's Teachings for Propagation and Jihad".
UPRISING: Boko Haram launched an uprising in 2009, leading to nearly a week of fighting that ended with a military assault which left some 800 dead and the group's mosque and headquarters in northeastern Maiduguri in ruins. Yusuf was captured and later killed when police said he was trying to escape.
RE-EMERGENCE: Boko Haram went dormant for more than a year before reemerging in 2010 with a series of assassinations. Bomb blasts, including suicide attacks, have since become frequent and increasingly deadly.
AFFILIATES: There has been intense speculation over whether Boko Haram has formed links with outside extremist groups, such as Al-Qaeda's north African branch and Somalia's Shebab rebels.