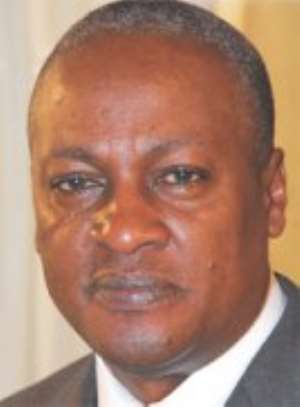 Vice President John Dramani Mahama, has expressed government's commitment to develop policy guidelines to enhance the delivery of pro-poor programes and projects for the benefit of the nation.
He said caring for the poor and also improving the living conditions of the underprivileged, was key to achieving the government's "Better Ghana' agenda.
The government, Mr Mahama said, had already initiated substantial development projects in the last three years to make life worth living for the citizenry in the areas of education, health, youth employment and infrastructural development.
The Vice President gave the assurance in a speech read on his behalf at the opening session of the maiden National Convention of the Ghana Muslim Students' Association (GMSA) in Kumasi last Saturday.
GMSA's core mandate is to shape the lives of members through regular mentorship, seminars and exchange of ideas with other sister organisations.
The three-day event was on the theme: "Enhancing Community Development through Quality Education and Discipline - The Role of the Muslim Youth."
The convention aimed at fostering unity among members of the association and also to sensitise them on the role of Islam in the context of secular education.
Vice President Mahama acknowledged the essence of education in the face of globalisation, saying, "without quality universal education it would be practically difficult for the nation to achieve her aspirations."
He expressed delight that due to prudent measures put in place by the government, the nation was on course to achieving the Millenium Development Goals in education.
Vice-President Mahama cautioned Muslim parents to be conscious of the development needs of their children and strive to bequeath them with the best of education to ensure their total development.
Rabiu Mohammed, President of GMSA, urged members to actively involve themselves in the activities of the Association for its progress. GNA.