DR. NDUOM SHED TEARS OVER SENYA BREKU ACCIDENT CASUALTIES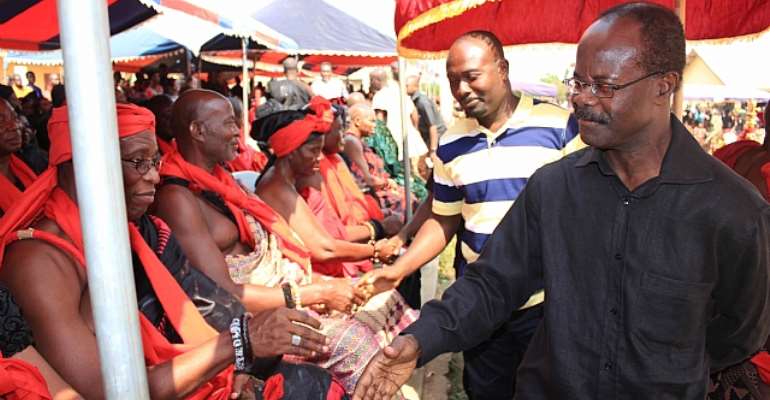 Dr. Papa Kwesi Nduom, who recently announced his exit from the Convention People's Party, and also hoping to contest on the ticket of a new Progressive political party, yet to be announced in February, could not hold his tears as he joined the people of Senya Bereku in the Central Region last Saturday, 31st December, 2011 at the final funeral rite of the victims of the ghastly motor accident which killed 27 people and injured 32 others. The accident occurred when a driver of a 2000-litre water tanker lost control and drove into residents gathered for Christmas celebration in Senya Bereku. The mass funeral was organised by the Senya Traditional Council on behalf of the bereaved families.
Dr. Nduom made a cash donation of GH¢4,400 to the accident victims. The donation was made in separate functions, where GH¢100 was given to each of the 27 bereaved families, GH¢ 50 was to partly cater for the cost of treatment for each of the hospitalized victims and GH¢400 for the Traditional Council.
Speaking to friends and sympathisers at the funeral grounds, the Presidential Aspirant opined that he got extremely saddened when heard of the ill-fated incident which occurred in a festive season, when all should be celebrating.
He said, "This horrifying accident has made him and all Ghanaians highly depressed, to the extent that it is hard for anyone to comprehend why and how this should happen at this crucial time. He prayed for God's mercies with the belief that such an unpalatable incident should not be seen, neither heard nor happen again''.
"I know that these are very difficult moments for you but I know also that the good Lord will provide you with the strength to go through it", he added.
The bereaved families and the Awutu Senya Traditional Council were consoled by the compassionate words of Dr. Nduom and thanked him for the warm gesture and prayed for God's blessings for him.
Office of Dr. Papa Kwesi Nduom
Kofi Asamoah-Siaw
020-8274852
3rd December, 2011