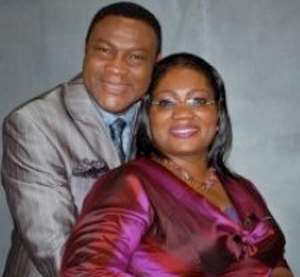 Rev. and Mrs Sam Korankye Ankrah
Worshipers at the Royalhouse Chapel International, Ahenfie, were not left out of the rare moment of seeing a new year as they were already gathered at the headquarters near the Obetsebi Lamptey roundabout at Accra North in anticipation of a prophetic word for the new year.
After hours of praising and worshiping God, testimonies of what the Lord had done for His children were given and then the General Overseer, Rev. Sam Korankye Ankrah, took his turn with the pronouncement of prophetic words for 2012, thirty minutes to the new year.
He said 2011 was the year of chaos, division and rebellion hence the uprising that was witnessed in and around Africa.
'Gaddafi should have known, Mubarak should have known and Gbagbo should have known, they should have known that it was a time when the people they have ruled for so long will rise against them,' he said.
The man of God said Ghana was however not spared as it also had its share of uprisings, with inter party conflicts being one of them.
'Internal conflicts and accusations in political parties have become so public that I don't know how they are going to come together. Others have also left their parties. What is happening among them will only take the hand of God,' he said.
Rev. Ankrah thus admonished the nation to seek the face of God, adding that no government or nation should think it can make it or succeed without God.
He then led God's people through a time of prayer as the clock indicated the dawn of a new year. He further stated that the new year was a year of order and governance.
Preaching from the second chapter of the book of Daniel versus 19 to 22, the man of God said 12 was number for God.
'It is a time where God wants to be given His place in the nations and if denied, He will shake Himself,' Rev Ankrah said.
He said the number 12 also represented the foundation of a new beginning. He said anytime the number 12 was seen, it signified an end to sorrows and troubles in one's life.
Rev Ankrah therefore encouraged his congregation to build their foundation on a covenant of worship and praise to God.
He later prayed for the blessing and guidance of God for the worshipers.
By Jamila Akweley Okertchiri