Ghana needs national law on bush burning - Gwollu Kuoru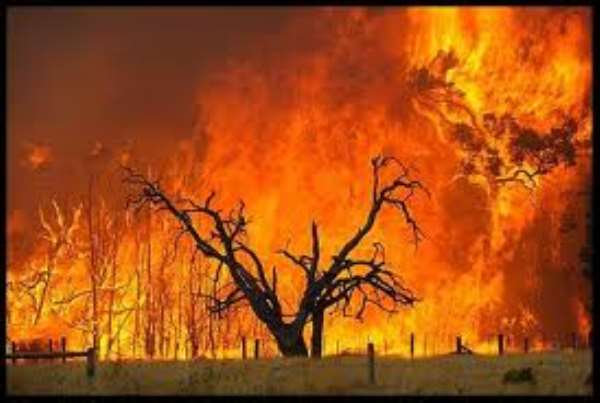 Gwollu (U/W), Jan. 02, GNA – Kuoru Kuri-Buktie Limann, Paramount Chief of the Gwollu Traditional Area in the Sissala West District has called on Parliament to enact a law to ban bush burning in the country.
He said Ghana was not likely to achieve much in its efforts to fight climate change and the promotion of agricultural growth if drastic laws were not implemented to ban bush burning.
Kuoru Limann made the suggestion when he elevated six sub-chiefs to divisional chief status at a durbar in Gwollu on Sunday.
He said similar stringent laws should be made to stop the felling of valuable trees, such as the Shea and Dawadawa for charcoal production.
He said he was aware that the district assemblies had enacted bye laws on the environment but asked how effective were these byelaws to deter people from felling economic trees for charcoal manufacturing.
Kuoru Limann said chiefs were partners in governance with a common goal of unifying the people and mobilizing them for development as well as leading them in all fields of endeavours.
He said the Upper West Regional House of Chiefs was undertaking research into lines of succession to skins, and the creation of queen motherhood in all traditional areas so as to promote gender balance to streamline the enskinment of queen mother's concept in the various traditional areas.
The Gwollu Kuoru said the 30 per cent representation under the constitution for traditional authorities in the district assembly had been denied them by former district chief executive even though they filled the requisite forms.
This is how some district chief executives failed to cooperate with several chiefs for good and peaceful governance of the people in the districts, Kuoru Limann said.
Kuoru Limann called on the Sissala West District Assembly to pay monthly salaries or allowances to chiefs in the area as being done to their colleagues in the other districts.
He appealed the Regional Minister, Alhaji Issahaque Salia and the security agencies to help curb the rampant armed robberies within Ghana and Burkina Faso borders.
The Lipilime, Kunkorgu, Nyimeti, Kusali, Jawia and Kwalla Kuorus (Chiefs) were those elevated to divisional chiefs.
GNA