SSNIT wins international award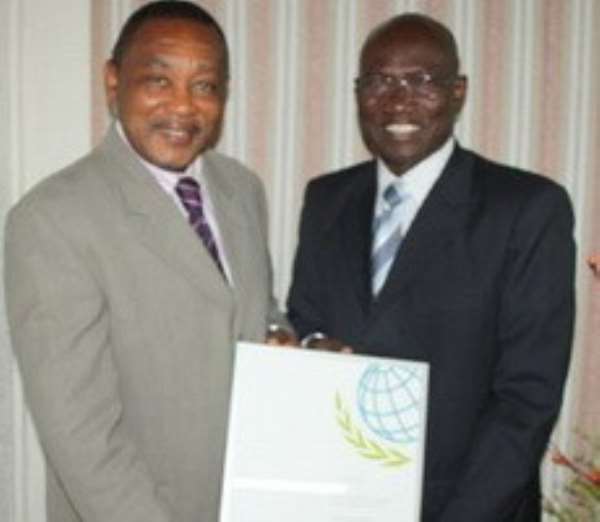 Dr Frank Odoom (right), Director General of SSNIT receiving the award
The International Social Security Association (ISSA) has awarded a Certificate of Merit to Ghana's Social Security and National Insurance Trust (SSNIT) for its New Business Process in Contribution Collection.
The SSNIT New Business Process represents a paradigm shift in contributions collection, data processing and management responsibility of social security data.
It is an innovative strategy crafted to reverse the difficulty in the effective management of contributor accounts.
ISSA Good Practice Award was the ultimate prize which was presented at a ceremony in Arusha, Tanzania, on 5th December 2011. It went to the National Health Insurance Fund (NHIF) of the United Republic of Tanzania for its strategic approach to improving its medical benefits package and health-care facilities, which has resulted in greater availability of medical services and an increase in the population which has access to health insurance in the country.
The International Jury which selected the winning entries also awarded Certificates of Merit to Social Security projects from Cape Verde, Rwanda, Algeria, Botswana, Cameroon, Cote d'Ivoire, Egypt, Ghana, Kenya, Mauritania, Mauritius, Morocco, Nigeria, Swaziland, United Republic of Tanzania, Tunisia, and Uganda.
Launched in 2008, the ISSA Good Practice Award programme is organized on a regional basis over a three-year cycle, and the competition for Africa 2011 attracted 42 entries from 19 countries representing 21 organisations.
In 2008, SSNIT Ghana was awarded the ISSA Good Practice Awards Africa Competition for "SSNIT Customer Service Improvement Programme".