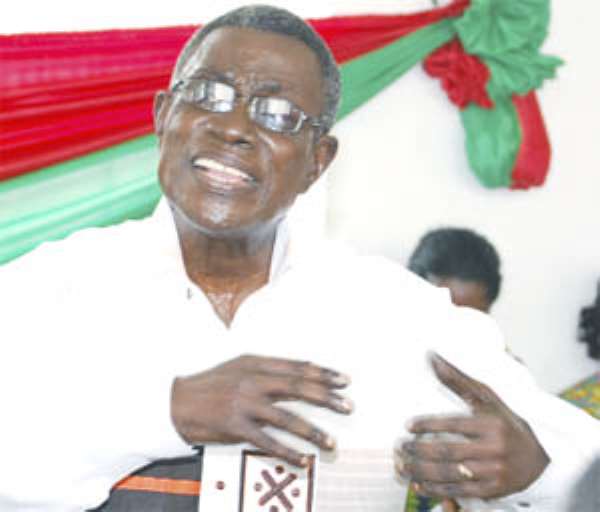 President John Evans Atta Mills
If there was any man whose remarks have impeded the cause of justice in the Woyomegate debacle, it is President John Evans Atta Mills.
Just before his emergency business trip to the US, he remarked that Alfred Woyome was not the target of the objectivity-deficient Economic and Organised Crime Office (EOCO) probe into the smelly debt payment, but those whose actions, as he put it, led to the accumulation of the judgment debt paid to the businessman.
His vindictiveness was in full flight when he uttered the legally unwise remark at a time when the independence of the panel to probe the Woyomegate remains a thorny issue. It was all too easy to determine where the President was heading when he said the foregone because he has often treaded on a similar path.
He has an unfinished agenda of embarrassing, where feasible, the government of his predecessor, especially now that almost everything seems to have gone sour for him at the helm.
Now that his preference is for a unit answerable to the Attorney General's Department  to undertake the probe into the Woyomegate, even as most Ghanaians including the TUC would rather an independent body does it, he has gone further to give his veiled ruling.
President Mills could have saved the country money and time by writing his ruling as he deems fit. After all, he is a lawyer and is no novice to legalese.
President Mills has, by this remark, offered adequate assurance to Alfred Woyome that he would stand shoulder-to-shoulder with him in the scathing case whose outcome, if it is to be undertaken by EOCO, is already known.
President Mills has gained notoriety for making politically-inflammatory remarks even when these are repugnant to good governance.  
His aides, mostly young men with no work experience, appear to be emulating him in their demeanours. They have made several such remarks to their discredit; and these have done a lot of harm to the country's democratic march even as an occasional call for restraint permeates the air.
The Mills remark on the Woyome scandal was a rhetoric intended to assure his pal that his support for the cause of 'Atta Mills for President' agenda would not be in vain.
With the president prejudging the outcome of the probe, there is really no point wasting our time and money on the issue.
We have taken notice of the various subtle interventions by persons in government to reduce the severity of the judgment debt gaffe. With the President leading the way in such a politically unwise order, nobody in his government can view the issues any differently.