Hamas PM in Sudan on first regional trip since 2007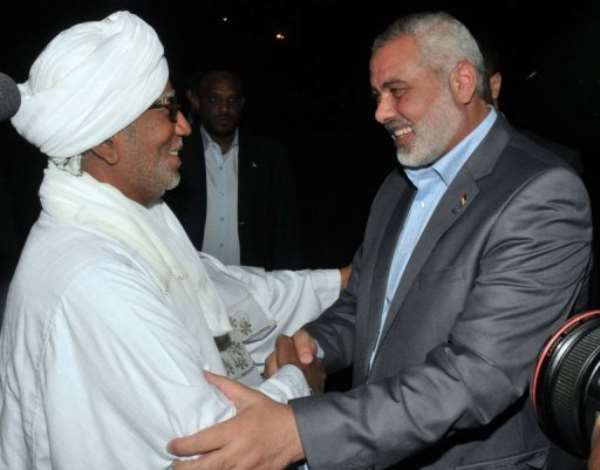 Haniya, right, was greeted at the airport by an adviser to President Omar al-Bashir. By Ebrahim Hamid (AFP)
KHARTOUM (AFP) - Gaza's Hamas prime minister Ismail Haniya was in Sudan on Wednesday as part of his first official regional tour since the Islamist movement forcibly seized power in the Palestinian enclave in 2007.
Haniya flew to Khartoum on Tuesday evening for an "official visit" and to attend a forum on Jerusalem, the official SUNA news agency reported.
It said he was greeted at Khartoum Airport by Ibrahim Ahmed Omar, an adviser to President Omar al-Bashir, but SUNA did not elaborate on who Haniya would meet or how long he would stay in the country.
Hamas has close ties with Khartoum and has long maintained a base in Sudan, where the group's exiled chief Khaled Meshaal is a frequent visitor.
The Al Quds Forum is an annual gathering which focuses on Jerusalem, the eastern sector of which was occupied by Israel during the 1967 Middle East war and annexed shortly after.
Around 200,000 Palestinians live in east Jerusalem which they want as the capital of their future state.
Haniya left Gaza on Sunday and visited Cairo before flying to Sudan on Tuesday.
Sources in his office the main purpose of the trip was to seek "help and aid" for the reconstruction of Gaza, which was devastated by a vast 22-day Israeli operation which began exactly three years ago.
He was also likely to address the issue of Palestinian reconciliation during the tour which would also include stops in Qatar, Turkey, Tunisia and Bahrain, they said.
Haniya entered Egypt through the Rafah crossing, which has remained largely closed since June 2006 when Israel imposed a blockade on Gaza after militants snatched soldier Gilad Shalit, who was freed two months ago under a prisoner swap deal.
The blockade was tightened a year later when the Hamas seized control of the territory, ousting forces loyal to the Western-backed Palestinian Authority.
Cairo officially reopened Rafah crossing with Gaza in May, more than three months after Egypt's former president Hosni Mubarak stepped down.
In April, two people were killed in an attack by an unidentified plane on Sudan's Red Sea coast, which reportedly targeted a top Hamas militant who escaped unharmed, a Gaza MP said.
Sudan's Foreign Minister Ali Ahmad Karti blamed Israel for the attack, but Israeli officials refused to comment on the raid, although they have previously expressed concern about arms smuggling through the country and over Khartoum's close ties with Gaza's Islamist rulers.