Nana Calls For Reflections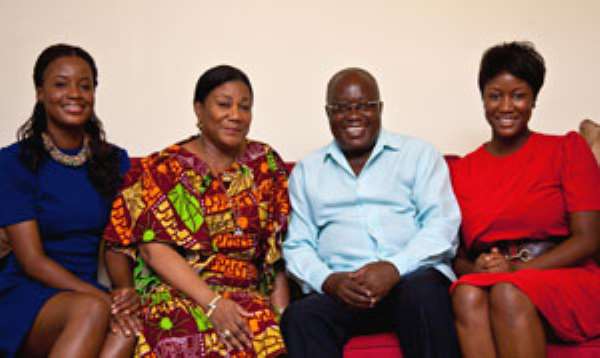 Nana Akufo Addo and wife, Becky with thier two daughters
Nana Addo Dankwa Akufo-Addo, flagbearer of the New Patriotic Party (NPP) has sent Xmas felicitations to Ghanaians, restating his wish for an industrialised country, united with shared love among her citizenry.
The Xmas season, he noted in the Yuletide greetings, should be underpinned by a reflection upon 'how far we have come and all that for which we have to be grateful'.
Turning to the approaching New Year, the flagbearer of the largest opposition party asked 'for a renewed faith in the destiny of Ghana, and confidence in our own individual roles in that national project'.
For Nana Akufo-Addo, a brighter future awaits the country. A future in which, according to him, the talents and resources of the country would be used to build an industrialised nation, great and proud.
His trips across the country, he pointed out, have enabled him to interact with all shades of personalities, ranging from hawkers to teachers, from who he has learnt about what it takes to serve the nation.
'I am grateful to God to be given the opportunity to travel this nation and meet so many of its great people. From farmers to hawkers, artisans and small business owners, nurses and patients, police officers and commercial drivers, teachers and students, I have learned so much more about what it takes to serve this nation, to serve Ghana and every Ghanaian.'
 Praying, he said, 'I hope, God willing, to be able to use this knowledge to help you all achieve the dreams to which you aspire'.
His special message to the children of Ghana captured in his Xmas greetings read: 'Learn hard, pray hard, play by the rules and prepare yourself well; there is a great future ahead of you.'
He charged Ghanaians to be grateful that they live in a country where family and community remain strong, grounded in tradition with an unflinching faith in God in the march towards becoming a modern nation.
Ghanaians must be thankful to God that they are celebrating the passing of another year when 'so many have suffered misfortune. This is a testament to the endurance of our people and that Ghanaians are willing to do what is right to ensure that our progress is irreversible. This is only the beginning of our new story.'
Regarding the peace in the country he said, 'Let us be thankful that we have enjoyed peace when so many others have struggled with unrest. This is a reaffirmation of our belief that we are stronger as one people than we are divided.'
The youth, he said, have remained poised with the energy to drive towards bigger things regardless of difficulties and unfulfilled promises, adding that 'let us be thankful that our people continue to believe in the potential of our country and the leadership that can make it happen.'
If we work together, respect each other, believe in ourselves and in God, he said, 'all things are possible'.
The citizenry, he pointed out, is ready to join hands and 'ready to realize the goal of a society where opportunity becomes a reality for all our citizens through good education, skills training and a determined industrialisation project that gives greater access to jobs and prosperity for all our people'.
Charging all Ghanaians to love, listen and learn from each other and to remember that together and with the help of God 'we can overcome any challenge', he said 'my wife, daughters and I wish you the best for Christmas and a Happy New Year'.
By A.R. Gomda