Swedish journalists jailed for 11 years in Ethiopia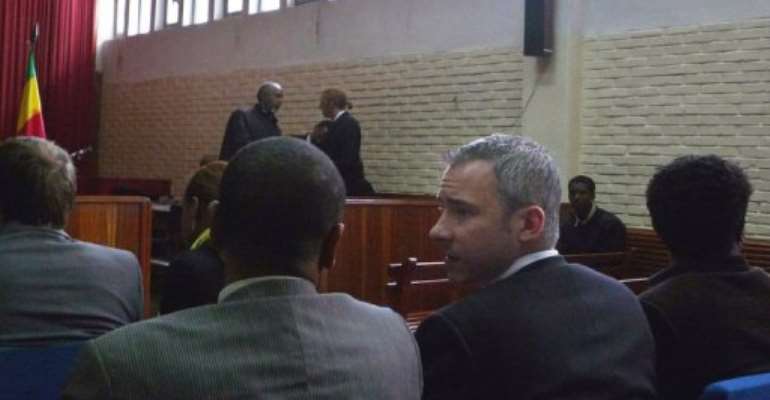 ADDIS ABABA (AFP) - An Ethiopian court sentenced two Swedish journalists to 11 years in jail for supporting terrorism and entering the country illegally.
"The sentence should be punishment of 11 years imprisonment," Judge Shemsu Sirgaga on Tuesday told the court in the Amharic language through a translator.
"This sentence should satisfy the goal of peace and security," he added.
Reporter Martin Schibbye and photographer Johan Persson were arrested in Ethiopia's Ogaden region on July 1 in the company of rebels from the Ogaden National Liberation Front (ONLF) after entering Ethiopia from Somalia.
Both Swedes showed no emotion at the sentencing, according to an AFP reporter in the court.
Prosecutors last week at the verdict called for a maximum sentence of 18 years and six months in prison.
The conviction attracted a barrage of criticism from rights groups and Sweden.
Both journalists admitted contact with the ONLF and to entering Ethiopia illegally, but rejected terrorism charges including accusations they had received weapons training.
Following their conviction, Swedish Prime Minister Fredrik Reinfeldt said Schibbye and Persson were innocent and should be set free.
The two said they met ONLF chiefs in London and Nairobi before meeting with about 20 members of the group in Ethiopia, about 40 kilometres (25 miles) from the Somali border.
Persson said their meeting the ONLF contacts had been for professional reasons only, as part of their investigation of the activities of Swedish oil company Lundin Oil the two were to report on.
The ONLF has been fighting for independence of the remote southeastern Ogaden region since 1984, claiming they have been marginalised from Addis Ababa.
Last month, charges of participating in terrorism were dropped for lack of evidence.