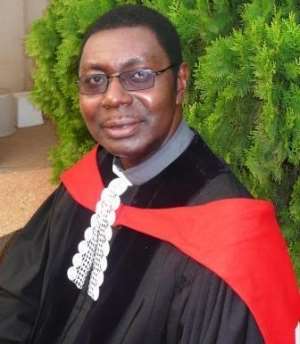 Koforidua, Dec 26, GNA – The Reverend Dr Ayete Nyampong, the Akuapem Presbytery Chairman of the Presbyterian Church of Ghana (PCG), has reminded Ghanaians that events in the country did not guarantee peace in the 2012 election and therefore called on all to pray for a peaceful election.
He said utterances by politicians and technocrats and the politicization of all issues showed that all was not well and that the atmosphere was volatile for any peaceful election and therefore urged Christians in particular to be messengers of peace.
Rev Dr Nyampong was preaching on Christmas day at the Ascension Congregation of the PCG at Koforidua during the induction of Reverend Dr Charles Gyang-Duah as the Koforidua District Minister of the PCG.
Reverend Dr Gyang-Duah was a synod clerk and a clerk of the General Assembly of the PCG and the District Minister of the Ebenezer Presbyterian Church in the Bronx USA and was at the same time in charge of North America District of the PCG.
Rev. Dr Nyampong said the need for peace in the nation was more urgent than at any other time and expressed the hope that the meaning of Christmas would engage the attention of all politicians to talk issues that would bring peace and not violence and chaos.
He expressed regret that every issue had been interpreted on political lines and urged politicians to reflect on the Christmas message of peace and ensure that peace remained through to the election period.
GNA