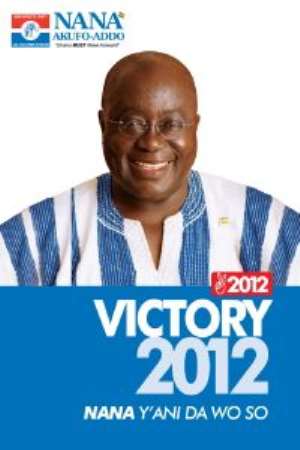 My fellow Ghanaians, as we enter this Holiday season and approach the New Year, my wife Rebecca and I wanted to wish you all the best during this season of love, unity, peace, and family.
I have often said that I believe that a brighter future awaits Ghana, a future where we have used the talents of our people and the rich resources of our land to build an industrialised, nation with prosperous people, making our nation great and proud.
 
But, during this season I believe it is important for us to reflect upon how far we have come and all that for which we have to be grateful. We also have to approach the New Year with a renewed faith in the destiny of Ghana and confidence in our own individual roles in that national project.

I am grateful to God to be given the opportunity to travel this nation and meet so many of its great people. From farmers to hawkers, artisans and small business owners, nurses and patients, police officers and commercial drivers, teacher and students, I have learned so much more about what it takes to serve this nation, to serve Ghana and every Ghanaian, and I hope, God willing, to be able to use this knowledge to help you all achieve the dreams to which you aspire.

I am grateful to have a strong wife at my side throughout this political journey, who can be an example to Ghanaian women and remind them that they are equal partners in our development and our success.
My message to the children of Ghana is simple: learn hard, pray hard, play by the rules and prepare yourself well; there is a great future ahead of you.
Let us all be grateful that we live in a country where family and community remain strong and can keep us grounded in tradition and our faith in God even as we become a modern nation.
Let us be grateful that we are here to celebrate the passing of another year when so many have suffered misfortune. This is a testament to the endurance of our people and that Ghanaians are willing to do what is right to ensure that our progress is irreversible. This is only the beginning of our new story.
Let us be thankful that we have enjoyed peace when so many others have struggled with unrest. This is a reaffirmation of our belief that we are stronger as one people than we are divided.
Let us be grateful that, in spite of all the difficulties and promises unfulfilled, our youth continue to dream big dreams and remain poised with the energy to drive us to bigger things.
And, finally, let us be thankful that our people continue to believe in the potential of our country and the leadership that can make it happen.
If we work together, respect each other, believe in ourselves and in God, then all things are possible.
We are ready to hold our own in the world, ready to realize the goal of a society where opportunity becomes a reality for all our citizens through good education, skills training and a determined industrialisation project that give greater access to jobs and prosperity for all our people.
My wife, daughters and I wish you the best for Christmas and a Happy New Year. Let us all celebrate the season safely and responsibly, and remember to help those who are less fortunate than ourselves in this season of giving. Let our open hearts and warm smiles help feed those who are hungry and offer comfort to those in need.
Let us take the time to gather, love, listen, and learn from each other, and to remember that together and with the help of God we can overcome any challenge and achieve any future of which we can dream.
Let's continue to believe in Ghana. God bless you all. God bless Ghana. Merry Christmas. Happy New Year.
Signed...
Nana Addo Dankwa Akufo-Addo
2012 NPP Presidential Candidate