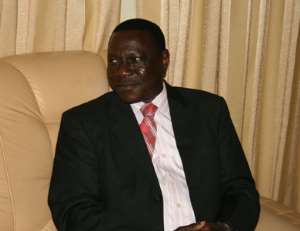 Tongo (UE), Dec 23, GNA - Mr John Tia Akologu, Member of Parliament for the Talensi Constituency has filed his nomination to contest the seat again on the ticket of his party, the National Democratic Congress (NDC).
Mr Akologu, who is also the Minister of Information, would be serving his constituency for the sixth term if he wins again come December 2012.
Submitting documents at the Constituency office at Tongo on behalf of Mr Akologu, the Chairman of the Campaign team for the MP, Alhaji Musah Seidu indicated that it was wrong for the aspirant's opponents to request him to step down because he had served for long.
According to the Chairman, it would be suicidal for the people in the Talensi Constituency to fail to vote for the MP because he was endowed with much experience that was still needed for the development of the constituency.
"Progressive minded individuals will count it as a matter of joy that we have such experienced MP who is well connected to bring investment and general development to the Talensi-Constituency"
The Chairman of the Campaign team said Mr Akologu's long stay in Parliament also made him one of the best legislators, saying that explained why he was made a member of the ECOWAS Parliament and subsequently the Minister of Information by President John Evans Atta Mills.
The Campaign team debunked allegation that Mr Akologu had not done much in terms of development in the constituency and said he had brought a number of development such as supporting the District Assembly to build many schools, health facilities and also offering sponsorships for students.
The Talensi Constituency Secretary of the NDC, Mr Stephen Kojo Yine stressed the need for all the aspirants and their supporters to go about their campaigns devoid of insults, and stated that the party had held the seat since 1992 and it was possible to continue to maintain it.
GNA