Use recess to educate constituents - Speaker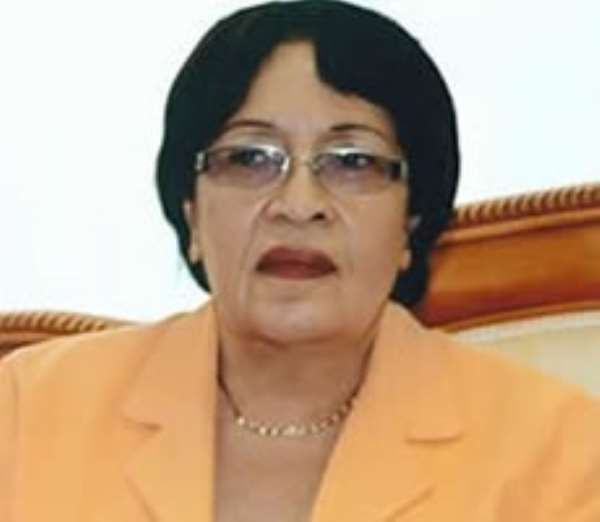 Speaker of Parliament, Mrs Joyce Bamford-Addo
The third meeting of the third session of the fifth Parliament of the Fourth Republic ended on Wednesday, with a call on Members of Parliament (MPs) to use the recess to educate their constituents to ensure a peaceful campaign towards the 2012 general election.
The Speaker of Parliament, Mrs Joyce Bamford-Addo, who gave the advice in her closing remarks, said the MPs had a duty to educate the people to tolerate the view of others in order to avoid tension associated with the election campaigns.
She stressed the importance of consensus building and commended the Majority and Minority for their cooperation that ensured the success of the meeting.
During the meeting, the House passed five bills. They are the University of Health and Allied Sciences Bill, 2011, the University of Energy and Natural Resources Bill, 2011, the Renewable Energy Bill, 2011, Specialist health Training and Plant medicine Bill, 2010 and the Appropriations Bill, 2011.
Nine Legislative Instruments (L.IS) presented to the House have since come into force while 14 statements and 58 questions were asked and answered by ministers of state.
In his closing address, the Majority Leader, Mr Cletus Avoka, commended the Speaker and her two deputies for the balanced manner in which they steered the affairs of the House during the meeting.
He stated that the country's democracy was receiving praise around the world, and called on the MPs and Ghanaians to guard the basic tenets of the democracy. "One of these tenets is the respect for individual opinions and views and that we all agree to disagree.
"Unfortunately, Madam Speaker, I have observed with some discomfort that sometimes we lose our tolerance for each other's opinion in the House and this does not augur well for our democracy."
For his part, the Minority Leader, Mr Osei Kyei-Mensah Bonsu, stated that even though his side disagreed with some of the policy direction of the government "it is the hope of some Ghanaians that if government would implement the budget to the letter, it would go some way to affect their lives positively."
He added that the quality of debate on the 2012 budget was good and represented an improvement over the previous year.
Mr Kyei-Mensah Bonsu commended the various committees with regard to time consciousness of the submission of reports on the budget estimates of the various ministries, department and agencies in spite of the short time.
He also commended the Speaker and her deputies, the parliamentary clerks and members of the Parliamentary Press Corps for working hard for the success of the meeting.
The House is expected to resume for the first meeting of the fourth session of the fifth Parliament on January 24,2012.