Mills' 'Action Year' featured cocaine here, cocaine there , cocaine everywhere – O.B. Amoah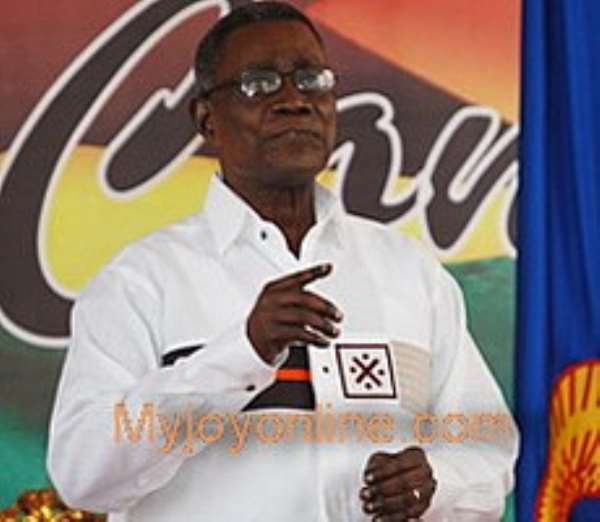 President J.E.A. Mills declared 2011 an 'action year'.
President John Evans Atta Mills totally failed Ghanaians in his declared 'Action Year', rather it ended with "cocaine everywhere", says former Deputy Minister for Sports and New Patriotic Party Member of Parliament for Aburi-Nsawam, O.B Amoah.
He says the government had deceived the populace and fallen short of its promises to execute various policies and programmes to improve their lot.
O.B. Amoah claims this is irrespective of claims by the ruling National Democratic Congress (NDC) that the country, declared an 'Action Year' in 2011 by President Mills - has witnessed indisputable successes in various sectors of the economy.
He was speaking on Peace FM's Kokrokoo Wednesday.
O.B. Amoah cataloged areas he said the government had failed in delivering to include what he called the unsuccessful implementation of the Single Spine Salary Structure (SSSS), strikes by doctors, galloping of corruption index, failed STX Housing project, problems with Education Sector, increased unemployment and missing cocaine, among others.
"From the 2009 budget till now, every year we will do this; every year we will do that…Every budget, promise, promise, promise [but you have failed to] deliver," he posited.
Mr Amoah said the NDC government was not only incompetent and slow but moving in the wrong direction, explaining that the people will encounter stiffer economic conditions in the coming year.
The former deputy minister maintained that the only thing that significantly marked the 'Action Year' was the infamous cocaine turned baking soda saga, saying; there was "cocaine here, cocaine there, cocaine everywhere."