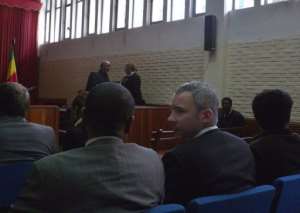 "Guilty as charged, period, unanimous vote," Judge Shemsu Sirgaga told the court. By Jenny Vaughan (AFP/File)
ADDIS ABABA (AFP) - An Ethiopian court said Wednesday that two Swedish journalists were guilty of supporting a terrorist group, with the prosecution calling for a maximum sentence of 18 years and six months in prison.
"Guilty as charged, period, unanimous vote. They have shown that they are esteemed journalists, but we cannot conclude that someone with a good reputation doesn't engage in criminal acts," Judge Shemsu Sirgaga told the court.
Reporter Martin Schibbye and photographer Johan Persson were arrested in Ethiopia's Ogaden region on July 1 after entering the country from Somalia.
Both the freelancers were also found guilty of entering Ethiopia illegally.
"They have not been able to prove that they did not support terrorism," Shemsu said, speaking in Ethiopia's Amharic language.
Both reporters appeared expressionless at the verdict, according to an AFP reporter in the court, but it was not clear whether they understood the judge since they had no translator.
They had earlier admitted contact with an outlawed rebel group and to entering Ethiopia illegally, but rejected terrorism charges including accusations they received weapons training.
Prosecution lawyers called for a sentence of 13 years for the terrorism charges, and a further five years and six months for entering Ethiopia without permission.
Judges retired from the court Wednesday to consider a decision on sentencing, but it was not immediately clear when that will take place.