Senegal soldiers killed in fresh Casamance attack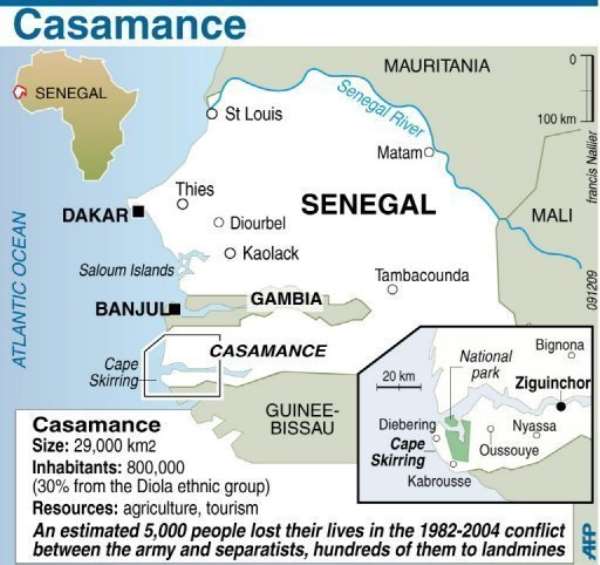 The attack is suspected to have been carried out by the Casamance Movement of Democratic Forces. By Francis Nallier (AFP/Graphic)
ZIGUINCHOR, Senegal (AFP) - Suspected rebels from Senegal's separatist Casamance region killed several soldiers and wounded seven Tuesday, the latest in a string of attacks in the enclave, military sources said.
"There were nine killed and seven wounded among army ranks," said an intelligence officer speaking on condition of anonymity.
There was no official confirmation of the death toll but several military officials spoke of several dead. A medical source at the region's main hospital confirmed that seven soldiers were admitted with injuries.
The soldiers was killed in a dawn attack on a government outpost in the Diegoune district, about 45 kilometres (30 miles) northwest of Ziguinchor, the southern separatist region's capital.
"There was a fierce firefight for at least 30 minutes. It was terrifying," a military official told AFP.
The Senegalese source provided no further details but the attack is suspected to have been carried out by the Casamance Movement of Democratic Forces (MFDC).
Dakar said Monday it was conducting search operations for five soldiers who have been missing since another rebel attack on an army outpost last week.
The divided MFDC has been fighting for independence since 1982 in a conflict that has claimed thousands of lives, with no immediate end in sight despite several peace accords.