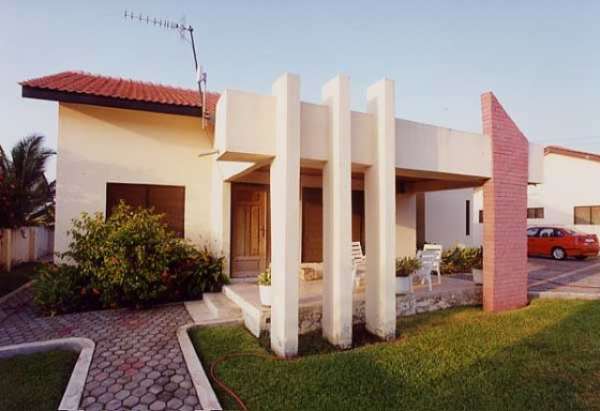 Following from successful exhibitions in London and New York over the last two years, the Ghana Real Estates Developers Association (GREDA) now has another opportunity to show to Ghanaians in Toronto the tremendous advancement and opportunities currently available in Ghana to prospective home buyers.
This visit by GREDA to Toronto is the second; the first was in 1998. The exhibition being organized by GREDA is in conjunction with a Canada-based event organizing company, Messrs Positive Options. It is expected that a large proportion of the estimated 250,000 Ghanaians who reside and work in Toronto and its environs will attend the exhibition, which will be held at the Ramada Plaza Hotel from 12th - 13th July 2003.
The Minister of Works and Housing Alhaji Mustapha Iddris Ali, and the President of the Ghana Real Estates Developers Association (GREDA) Mr. B.D. K. Adu will lead a delegation of about thirty of the country's top estate developers to the Toronto Ghana Housing Exhibition.
Also attending the exhibition will be Mr. S.A.Odoi Sykes Ghana's High Commissioner to Canada.
Ghana's largest inflow of foreign capital is derived from Ghanaians living abroad who remit funds back to Ghana for the purchase of Homes. Housing is the only product that can be exported from Ghana without the actual product ever leaving the shores of Ghana. It also provides those who have left the shores of the mother country to maintain some links with home in addition to the investment opportunities thereof. Ghanaians who migrate to foreign lands yearn to own a house in Ghana. They contribute well in excess of one hundred million US dollars to the Ghanaian economy every year by way of remittance. Some of the money finds its way into the construction industry in Ghana.
The Exhibition also falls in line with the government's policy of encouraging Ghanaians outside the country to assist the country in its development aims in whatever shape or form.
The Exhibitors attending will include the following companies: ACP Estates, Akuaba Estates, Awet Construction, Alfresco Housing, Buena Vista Homes, Coastal Estates, Devtraco Ltd., Emefs Construction, Fortune 2000, Juskubi Construction, Kenprist Ventures, Manet Housing, Medium Dwelling, Regimanuel - Gray Ltd.
Others are Tekoa Estates, Top Kings Enterprise, Tracoaf Estates, WDP Winipak, Tema Devpt. Corp. Nubinco Construction, Kingffaz Co.Ltd., Media Galore, 3P Estates Developers Ltd. and Afanova Construction Co.Ltd. The rest are Boama Building Construction Co. Downsview Ltd. Hydraform Estates, Jupiter Real Estates Ltd. Kae Me Bre Co. Ltd. Kwadkuff Co.Ltd. Osamanpa Estate, Prudential Real Estates, ST. Patrick Estates, Wanimas Complex Co, Kerwell Company Ltd. Flexcon MB Ltd. and Hughs Real Estates.