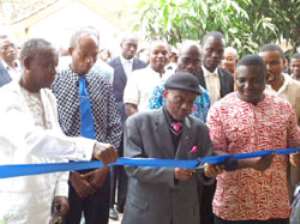 U.S. Group of   Companies, a Ghana-  based business entity,  on Wednesday, inaugurated its 29th Business Line, U.S. Broadway Marketing Network Limited (BMNL), at a short ceremony in Tema.
Speaking at the inaugural ceremony, which was on the theme: 'Empowering Society through Socio-Economic Growth,' Mr. Godfred Medicene, Founder and President of the U.S. Group of Companies, said the BMNL had been established with a common vision to help people live better lives.
According to him, in times past, administrators, accountants, managers and book-keepers thought their valuable assets were their tangible fixed assets, but later on, realised that it was their work-force or labour.
'Now, in modern times, it has been observed that the greatest asset any man or organisation can ever have is time. People in their late years confess that their conscience keeps questioning them; what have you done with your time?' he explained.
He noted that the desire of most young men and women in the country was that they want to work very hard now that they are still young, so that when they become old, they could live comfortably, unfortunately, there are no jobs.
Mr. Medicene continued that the government was doing everything possible to ensure that more jobs are created to absorb our teaming unemployed youth, asking; 'For how long shall we leave the burden of earning a living on government?'
He explained that time was long overdue for Ghanaians to reorganise our way of thinking and come up with ideas that can create job opportunities for the unemployed to benefit.
The U.S. BMNL Founder and President disclosed that Ghanaians had the ability to create more jobs in the country, but the only problem was that most of us allow fear to override our sense of ability to deliver.
Before inaugurating the new office for the 29th Business Line of his company, Mr. Medicene took the opportunity to do a presentation on how he thinks Ghanaians could use the power of thinking to transform our country.