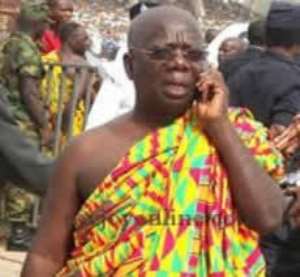 Former Chief of Staff under the Kufuor administration administration, Kwadwo Okyere Mpiani says he is prepared to meet with President John Evans Ata Mills and give vivid account of circumstances that led to the award of contract to Alfred Woyome for the renovation of the three stadia.
He said if President Mills invites him to provide documents about the deal, he would be more than willing to help.
There has been a heated public debate in the media over the payment of about GHS58 million to NDC stalwart, Alfred Agbesi Woyome by a court order for what critics call "no work done."
Speaking on Adom FM's Dwaso Nsem on Monday, the former Chief of Staff said the then NPP government did not sign any contract with Woyome to warrant the payment for breach of a contract which did not exist.
He read a letter dated 21st August, 2005 from the then Finance Minister, Yaw Osafo Maafo which said due to the high cost of the project in the bid presented by Woyome's company, Waterville Holdings Limited, the government refused to work with him.
Mr. Mpiani therefore challenged Alfred Woyome to produce documents to prove his claims that government awarded him a contract to renovate the three stadia, and which contract the government breached.
Meanwhile, the Communications Director of NPP, Nana Akomea has asked the Attorney-General's office to admit it made a mistake in allowing the court to give Woyome such a huge amount without putting up a defence.
He questioned why the Attorney-General initially said it had no defence but later went to court and asked for the opportunity to put up a defence.
Nana Akomea hinted that on Tuesday, December 20, 2011, the NPP would hold a press conference and provide evidence to support its position that some fraud had been committed in the whole deal between the government and Alfred Woyome.

Story by Cynthia Akuamoah Boateng/Adom News/Ghana