Nduom to contest 2012 elections, platform unclear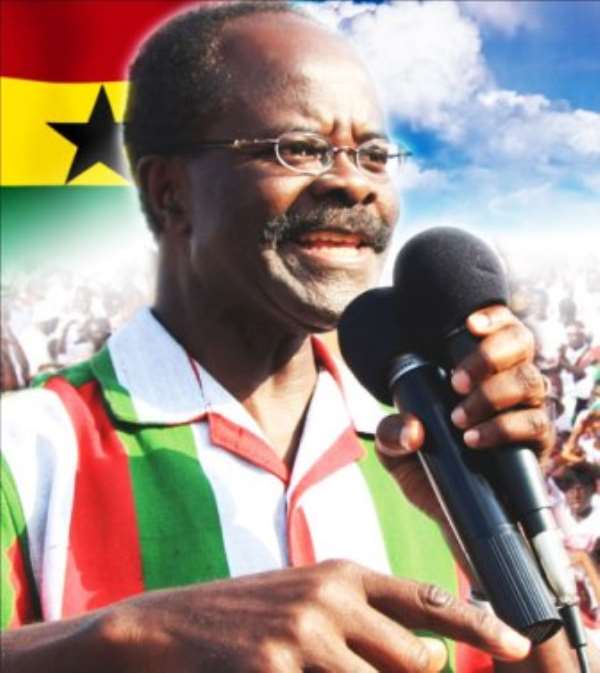 Accra , Dec. 18, GNA - Dr Paa Kwesi Nduom, the Convention People's Party (CPP) Flagbearer in the 2008 election is gearing up to contest the presidential election in 2012.
It is however not clear under which platform he may be seeking to contest the executive seat.
But his campaign team has hinted that Dr Nduom would make a statement on his political future before the end of the year, an indication that the politician may undertake the election as an independent candidate.
"Surely Dr Nduom is going to contest the 2012 election. But he has decided that it is for collective action to create a new political order that is national in character and one which is different from what exist today…But he does not want to act alone", said Richmond Lamptey, a member of Nduom's communication team at a press conference at the weekend.
He said Dr Nduom is not interested in the 20th century Ghanaian politics, but determined to help build "a unique 21st century brand focused on eliminating poverty, preventable diseases, educating all children and promoting the Ghanaian private sector to create well-paying jobs at home".
Lamptey said Dr Nduom want Ghanaians to believe in his personality as a president-in-the-making than see him as CPP's representative.
He said Dr Nduom is seeking an "independent New CPP" that is not tied to another party but confident and secure enough to work with other parties to promote national interest.
"So what he is calling for must have a different character-less bureaucratic and more field and action oriented- from what has typically been the case in Ghana in the Fourth Republic."
He said even though Dr Nduom had earlier indicated that he was taking a back-bench approach in the issues of the CPP, he believed that there was more to be done outside the party than within to win votes.
Dr Nduom, he noted, agreed that there is the need for action to keep the interest of all independent and progressive-minded people alive who want something different from what has been offered by the political parties so far in the Fourth Republic is concern.
He said it was Dr Nduom's view that one does not have the need to have an affiliated seat in parliament to become a President but expressed his willingness to co-operate with Parliament and forge an effective partnership to ensure agreement on urgent the agenda for the accelerated development of Ghana.
Dr Nduom was heavily crititicised by the National Executives of the CPP for allegedly instigating groups within the CPP to call for early congress.
The leadership of the party cited him as the cause of disunity in the CPP and threatened to expel him.
This prompted Dr Nduom to ask the media to refrain from referring to him as CPP Presidential Aspirant, announcing that he would take a back seat in the party's affairs.
GNA