Kenya vows air strikes on far-flung Shebab towns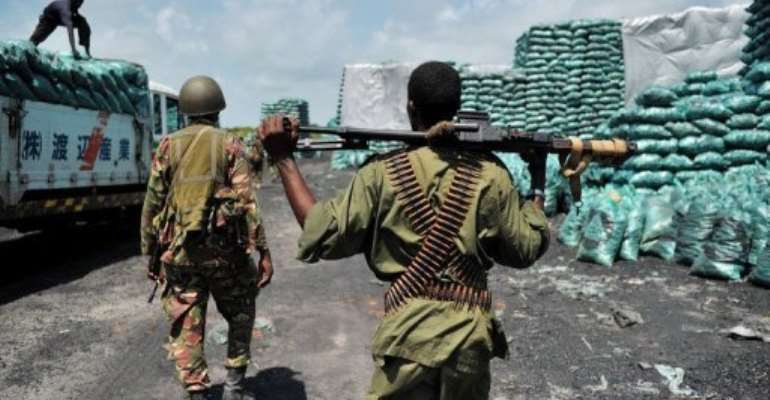 NAIROBI (AFP) - Kenyan troops battling Shebab insurgents in southern Somalia vowed Saturday to carry out air strikes deeper into rebel-held territory.
Military information and operations officer Colonel Cyrus Oguna said they would target Afgoye, a town near Mogadishu and home to thousands of displaced people, as well as the ports of Merka and Barawe on the southern coast.
"We are developing targets in areas of Afgoye, Merka, Barawe and we want to hit deep into their (Shebab) own areas," Oguna told reporters.
"We want to send a message to those living close to Al-Shebab infrastructure to try and stay away from those infrastructure because we are developing them as legitimate objectives."
Since launching an offensive against the Al-Qaeda-linked insurgents two months ago, Kenyan warplanes have struck rebel bases mainly in the south, and Oguna said several Shebab fighters were killed in air strikes in the past week.
"Air raids will continue until Al-Shebab is completely destabilised and dislodged," he added.
Kenyan forces are in three locations in southern Somalia, but have made little territorial advances since deploying in mid-October.
Nairobi has agreed to have its forces operate under the African Union Mission in Somalia, a 9,700-strong force made up of Burundian and Ugandan troops tasked with protecting the weak Somali government in the capital Mogadishu.
Inside Kenya in recent weeks, several civilians have been injured or killed in grenade and landmine attacks in areas near the porous Kenya-Somalia border which are blamed on the Shebab.
Kenya sent troops across the border to battle the hardline militants it blamed for a spate of kidnappings and attacks on home soil.