SSudan accuses Sudan of destabilization efforts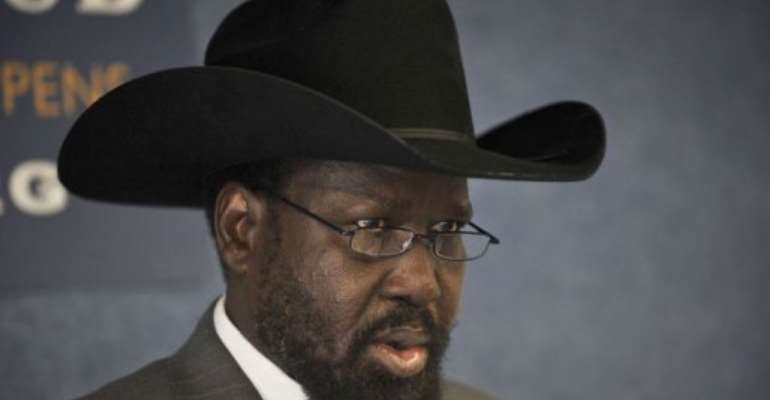 WASHINGTON (AFP) - South Sudanese President Salva Kiir on Friday accused Sudan of trying to destabilize his fledgling state with cross-border militia raids and bombing runs against refugee camps.
The United States fears fighting along the border between Sudan and South Sudan could undermine implementation of the 2005 Comprehensive Peace Agreement, which ended a two-decade civil war and led to the south's independence in July.
The sides still have to negotiate sharing oil revenue and demarcating boundaries.
During a press conference in Washington, Kiir denied allegations that South Sudan was supporting militias which for the last few months have been fighting Sudanese government troops in Sudan's South Kordofan and Blue Nile states.
The cause of the fighting is "not from us, it is from the government of Sudan that has been organizing militias and has been sending them in waves to come and destabilize the Republic of South Sudan," Kiir told reporters.
"There is no way that we can allow these people to come and slaughter the innocent civilians. The government must defend the people. They sneak in and they do some damages, but it is all originated from Khartoum," he said.
He also accused the mainly Arab and Muslim state of Sudan of carrying out bombing raids into South Sudan, which is populated by Africans who are mainly Christian and animist.
"Their air force is now violating the air space of the Republic of South Sudan. They are bombing people in our areas, including the refugees camps," the president added.
UN officials said Sudan's air force last month bombed the town of Yida in South Sudan, where thousands of non-Arab Nuba had fled fighting in South Kordofan. There were no reports of casualties, but it triggered international outrage.
Kiir dismissed suggestions the two neighbors were on the brink of a new war. "We are not going to fight with the North," he said.
Kiir was in Washington to attend a conference designed to give a boost to South Sudan's development.