Local authorities must join Anti-Malaria Crusade -ZoomLion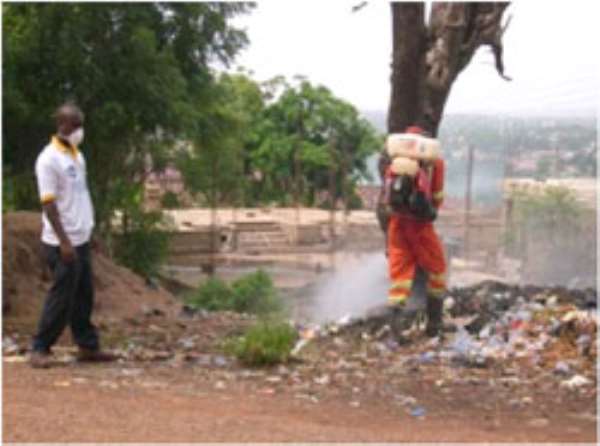 A staff of ZoomLion during the exercise
ZoomLion Company  Limited has advised that    the entire citizenry,  members of parliament, district and municipal chief executives must, as a matter of necessity, play their respective roles in the control of mosquitoes and eradication of malaria, especially, during this yuletide
Mr. Abel Djangmah, Greater Accra Regional Vector Control Officer of ZoomLion Ghana Limited, made this statement on behalf of the company.
Mr. Djangmah challenged the various community heads and opinion leaders to take up and lead the crusade in the combating of malaria, stating: 'If local leaders really care about the welfare of the citizenry, then they should all be anti-malaria campaigners.'
He made these remarks in an interview with the Accra File, after he organised a spraying and fumigation exercise, and the larviciding of active breeding sites in all the sub-metros in the capital over the weekend.
'We have been engaging in source reduction, weeding of targeted areas, and environmental control, including clearing of receptacles which serve as mosquito breeding sites,' Djangmah said.
He added that the company intensified the spraying exercise after the recent downpour in the metropolis, which created conducive environments for mosquitoes to breed.
Areas visited during the spraying exercise included Korle-Gonno, the Mamprobi Polyclinic area, White House, and Glefe all in the Ablekuma South sub-metro. The Ghana Broadcasting Corporation (GBC) area, Kanda, the Maamobi Polyclinic drain, La, Odawna, Darkuman market area, and Salaga market area in the Ashiedu Keteke sub-metro.
'We needed to apply strict sanitation measures to curb the incidence of malaria outbreaks, especially, in this Christmas season,' he added.
He observed that the season was likely to increase the activities of house flies in the various communities, hence the company's preparedness to intensify its disinfestations and disinfection exercises at all container sites, refuse dump sites, and public toilets, to prevent fringe community members from contracting malaria, cholera, and dysentery among others.
In his interaction with residents in the beneficiary communities, Mr. Djangmah encouraged the locals to call on ZoomLion for assistance whenever they were faced with house flies and mosquito problems; 'ZoomLion is combat-ready to assist you anytime.'
He commended the environmental health departments of the various metropolitan, municipal and district assemblies in the region for providing technical guidance and assistance to the company's spraying activities.
The spraying team has intensified the disinfestations and disinfection of refuse dump sites and public places of conveniences in the sub-metros and the various districts in the region, to reduce the incidence of disease vectors and vermin.
The team, however, lauded the district cleansing officers and environmental health officers in the sub-metros and districts for supporting and guiding the spraying exercises.
'We want all the assembly members in their respective electoral areas, which, hitherto, have not benefited from the exercises, to call on the Vector Control Unit for the necessary support,' Djangmah stated.