IGP Must Go! – Allotey Jacobs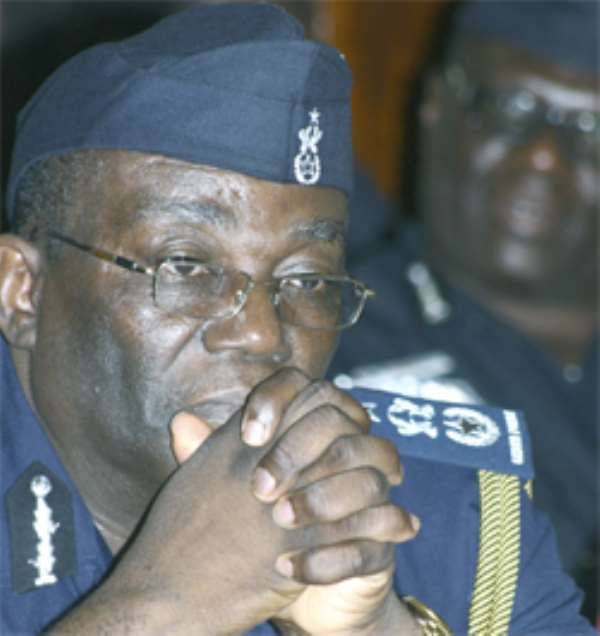 IGP Paul Tawiah Quaye
Central regional communications director of the National Democratic Congress (NDC), Bernard Allotey Jacobs, is pushing for the removal of Paul Tawiah Quaye as the Inspector-General of Police (IGP).
He believes the Chief Constable is not in full control of the officers and men placed under his watch and supervision since 'under his administration, a lot of negative things have happened and I think he is not in control of the administration.'
Though government has directed the Bureau of National Investigations (BNI) to investigate the circumstances that led to the disappearance of the substance and subsequently gave it seven days to submit a report on the issue, the NDC guru believes the continuous stay of Mr Quaye as IGP casts a slur on the integrity and professionalism of the Ghana Police Service and thus called for his immediate resignation.
Allotey, who was speaking on Peace FM's Kokrokoo show, yesterday, over the strange disappearance and replacement of a cocaine exhibit in police custody with baking powder (sodium biocarbonate), noted that 'maybe, he has caged himself in a room and been listening to stories.'
He therefore noted that if the IGP was unable to offer any explanations to the missing cocaine scandal, 'he should bow down honourably and leave the work for a more competent person to take over.'
He stressed the belief that individuals and groups had taken undue advantage of President Mills's supposed 'father for all' mantra to emasculate his administration, noting that 'Ghana will need someone who will make the police service efficient and rebuild the sinking image of the Police Service.'
An obviously enraged Allotey Jacobs, who is an avowed supporter of the President, said, 'Some people have taken advantage of President Mills' father-for-all disposition to undermine his administration' and that 'those who turned cocaine into 'konkonte' in the Police Service and were not sacked because of the father-for-all attitude are taking advantage again to undermine the government. Their masters are pulling the strings to ensure that at least getting to election time they also do exactly what the NDC did to them.'
That, he said, was because 'there are issues every day and instead of our Police Service behaving professionally, they are only concerned about setting up barriers…and thus becoming a nuisance.'
Instead of training policemen to be professionals, he said, 'all they do care about is erecting barriers'.
'The IGP is not a professional police officer,' Allotey claimed.
By Charles Takyi-Boadu