VRA To Spearhead Development Of Local Content Policy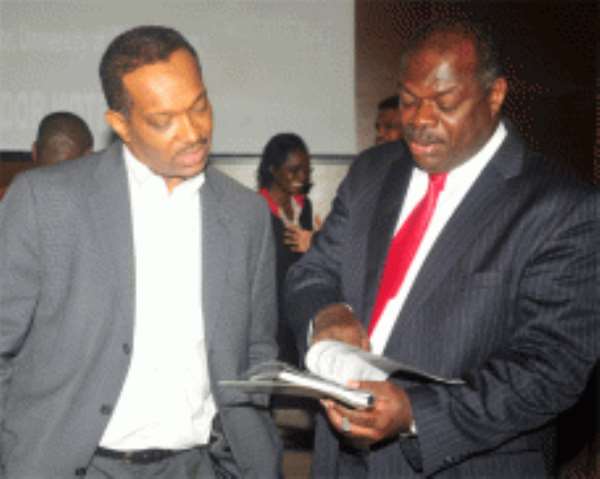 Mr Awotwe (L) chatting with Prof Ernest Aryeetey, Vice Chancellor of University of Ghana
A forum was held in Accra yesterday to bring together experts from academia and industry to brainstorm on local content in the power utilities and related industries.
Speaking at the forum, the Chief Executive of the Volta River Authority (VRA), Mr Kweku Andoh Awotwi, said as an industry, the VRA realised that local content was very important in its operations.
He said the need for Ghana to develop a local content policy or legislation was probably long overdue, saying the issue was even more crucial and relevant at a time of national development when the country appeared to have no choice but to import almost
everything.
In the last 50 years, the VRA has dealt mainly with foreign contractors for the purchase of components for the construction of the Akosombo Dam, the Kpong Dam and the Takoradi Thermal Generating Plant.
That involved large foreign components, with little or no involvement of local contractors.
Mr Awotwi said for the next 50 years, the VRA intended to go into renewable energy generation, starting with solar and wind.
He said the VRA, as a strategic industry, had positioned itself to lead in the development of a local content policy for the power utilities and related industries, including manufacturing industries that constituted an important segment of the customers or stakeholders of the authority.
Mr Awotwi said the VRA's major objective for implementing the local content policy was, therefore, to attract increased local value-added investment in the industrial sector to create job opportunities in the industrial sector and exploit the country's resource endowment in an environmentally sustainable manner
The Minister for Energy, Dr Joe Oteng-Adjei, in his keynote address, said the country was faced with a situation where almost everything was imported.
He said a country such as Ghana should be able to develop local capacity for the design and construction of renewable energy projects such as mini and small hydro, wind and solar power plants.
He said within three years and beyond, capacity development in the provision of goods and services, including the local manufacture of equipment, such as power distribution transformers, energy meters and other power distribution accessories, would be carried out at the VRA's Centre for Excellence to be situated at Akuse.