Infrastructural development is key to Ghana's growth - Dr Gockel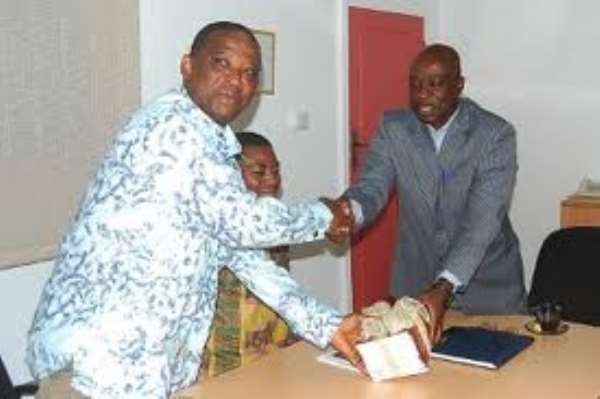 Accra, Dec. 14, GNA – Dr Fritz Augustine Gockel, Head of Department of Economics, University of Ghana, has said infrastructural development was critical to the free movement of persons, goods and services in the country.
In addition, he said, the provision of improved infrastructure could increase the choices available to people as to 'where to live and work, what to consume, what sort of economic activities to carry out and which other people to communicate with".
"The provision of efficient infrastructure is not so much to do with its usefulness and desirability and why governments should accept responsibility for its provision. It is more to do with the cost of such provision to ensure value-for-money," he added.
Dr Gockel was speaking at a day's seminar organised by the Ghana National Chamber of Commerce and Industry (GNCCI) for its members to deliberate on the 2012 Budget on the theme: "The Implications of 2012 National Budget to the Private Sector" in Accra.
He said the usual concerns with public provisions were bad planning, inefficient delivery, corruption and cronyism, especially in the award of contracts and called for attitudinal change to correct the situation.
On Ghana's oil find, he said, 2011 marked the first full year of commercial oil production, and the country for the first time, was a player in three key international commodity markets, namely, gold, cocoa and oil.
Dr Gockel said Ghana's oil was a blessing in the sense that the core commodity terms of trade, measured by movements in the international prices of cocoa, gold and oil, would now become benign than before if prices of all three export commodities rise.
"Ghana will no longer feel the full adverse impact of oil prices because of its new status as oil producer but this will not go without challenges of oil management.
"The second relates to the effective management of foreign exchange resources in order to avoid the proverbial Dutch Disease. The oil boom can move productive resources including land, labour and capital away from the non-oil sector into the oil sector, thereby causing production to decline in the non-oil sector.
"The foreign exchange earnings from the oil export could also lead to severe loss in international price competitiveness of goods produced in Ghana, profits become squeezed, and in some cases production becomes totally unprofitable, causing enterprises to shut down with loss of jobs," he added.
Dr Gockel said two important tasks that would emerge would be how to effectively absorb the foreign exchange resources in order to address infrastructural deficiencies, institutional weaknesses of the economy, and promote accelerated growth and job creation.
Major infrastructural projects identified for implementation in 2012 and succeeding years in the Budget were principally in electricity, oil and gas, water and sanitation; railways, roads, and ports (including the Eastern and Western Corridors); and health, education, and agriculture.
Dr Gockel noted that investment in such infrastructure could yield high returns because they were crucial sources of economic competitiveness for Ghana.
Commenting on inflation, he said, expectations could be characterised as having been well-anchored as inflation rates had decelerated and had remained in single digits for over a year, resulting in the restoration of investor confidence with the signing of the stabilisation programme, accumulation of additional resources in support by the International Monetary Fund and the World Bank, and complementary fiscal and monetary policies.
Dr Gockel mentioned rapid growth in public spending, especially on wages and salaries, structural rigidities in the budget, limiting room for policy manoeuvre, high revenue leakages undermining revenue administration, high levels of fiscal arrears, threatening fiscal sustainability, social and political difficulties of making a very large one-off adjustment as some of fiscal challenges and threats to inflation.
Mr Seth Adjei Baah, President of GNCCI, said the seminar, which formed part of their 250 years anniversary celebration was to provide an in-depth analysis of the budget from the perspective of the private sector.
He said the private sector continued to be the engine of growth for the economy and expressed the hope that the seminar would help the sector to make the right policy choices that would ensure that the sector continued to spearhead the country's economic growth.
GNA